My first encounter with the Nokia E series was with a Nokia E 51 which I purchased in Singapore in November 2007. I love this phone but gave it up a couple of months ago to my daughter because her cellphone died on her. When I still used my E51, it served my mobile needs especially if I am out for media events and need to check my emails periodically. The fact that it doubled as an excellent modem for my macbook is a plus factor.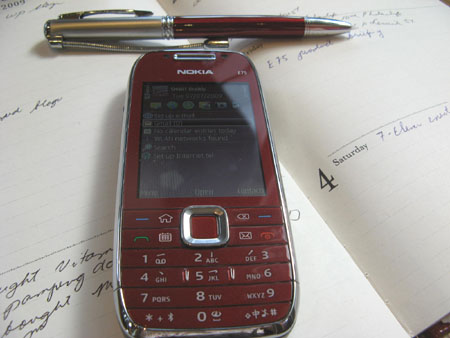 Now comes the Nokia E75 which was made available to me for review and I am loving it. Imagine the Nokia E75 as the more compact version of the popular Nokia E71, featuring the same business looking and slim body. Its curved corners closely resemble my old reliable Nokia E51. Consider these too: it is the first Nokia device to ship with a horizontal slide-out qwerty and keymat, offering a unified messaging interface that combines email MMS and SMS into one application. Being familiar with the Eseries handset, it wasn't a challenge coming to grips with the E75.
Mobile workers like me rely on gadgets that are efficient and productive. Efficiency is about doing more with less and focusing on what's truly essential.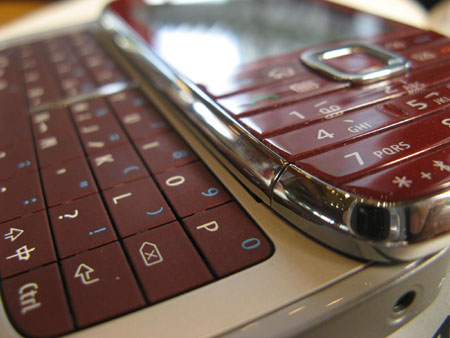 The Nokia E75 has a slide out QWERTY keyboard with efficient three-step email setup. This simplicity is achieved with the integration of Nokia Messaging, which ships with a device for the first time in the Nokia E75. Nokia Messaging makes it easy to manage multiple mailboxes with just one simple interface. Yahoo!, Gmail and other Internet-based accounts can now be accessed from your Nokia E75. What's more, Nokia Messaging supports push email technology that allows emails to be delivered to your Nokia E75 automatically. Now this is my first push email technology experience. There is no need for me to constantly check for new emails. To keep data costs at minimum, I allow the synchronization to happen between 10:00 AM to 2:00 PM, those times that I am out of the house. With SMART 3G, the data cost is 10 pesos every 30 minutes. I prefer SMART 3G over the Globe connection because the former has a more reliable and consistent internet connection.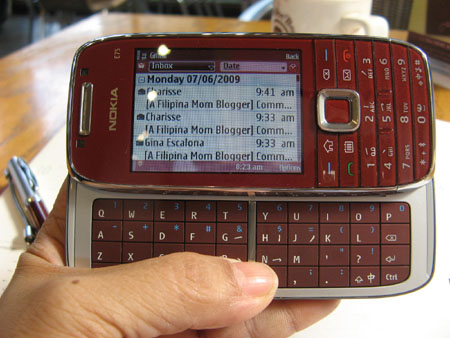 I prefer to use the qwerty keyboard when I type out my messages. The keyboard is just right for me because I don't get cross-eyed as I type out the letters. The lovely red phone feels great in my hands. Neither too big nor too wide. The messaging functionality of the Nokia E75 full keyboard provided works well for those that prefer the QWERTY keyboard.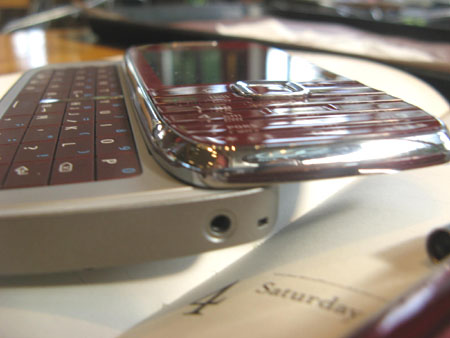 The richer email experience in the Nokia E75 brings all of my accounts into one simple to access and user friendly graphical UI, which supports the most common features for desktop email including expanding views, one click reply and sub-folder and HTML support. Added to the enhanced email functionality, upgraded personal information management features such as the ability to create and respond to meeting requests, and contacts lookup and auto-complete, also make their debut in the Nokia E75.
I am not going to talk much of the other Nokia E75 features since you can easily take a peek at the specifications at the Nokia Philippines website.
What you might be interested to know is the how the Nokia Messaging works:
1. Click on "Set up e-mail" on the homesecreen then "Start e-mail setup".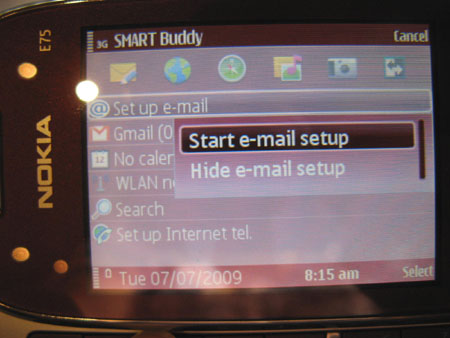 2.
Enter the email address and password of your internet-based email account.
3. If your email account is supported, you will be brought to a "Nokia Messaging" Service for the email setup. You will need to review the Service Terms and Privacy Policy before clicking on "Accept". Once you click "Accept", the setting wizard will automatically complete the rest of the settings.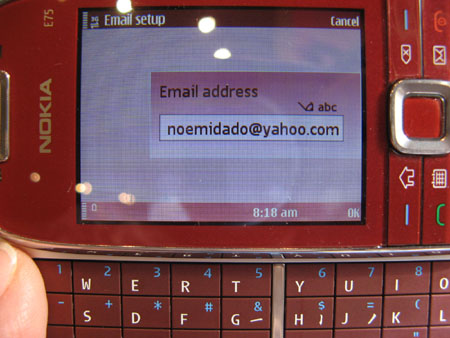 Take note that if Nokia Messaging does not support your email account, you will be prompted to select your email account type and enter the related account settings.
It's so simple. When I first activated Nokia Messaging for my Gmail account, there was some delay before my previous emails got updated. True enough, I soon got email alerts from my Gmail and Yahoo! email accounts.
You can find your mailbox on the homescreen or simply go to Menu>Nokia Email and you will find your mailbox.
If your company uses Microsoft Exchange Activesync, you can set up the built-in Mail for Exchange to access your email, calendar, contacts and tasks data. You will just have to ask your company's IT department for your Exchange Activesync user name, domain and serve name before you set up Mail for Exchange on your Nokia E75.
Just because I use a cellphone for business doesn't mean I can't have fun. The Nokia E75 has such great appeal and is ideal for someone like me looking to switch between work and personal life when I feel like it.
I downloaded the qik.com, a Mobile Live Video Sharing for Everyone, Everywhere! Taking a live streaming video of an event (okay that counts as work and fun at the same time) takes a new dimension to one's online presence. As a blogger and new media publisher, getting the scoop with interviews enhance our online content and allows me to share the results live on my blogs.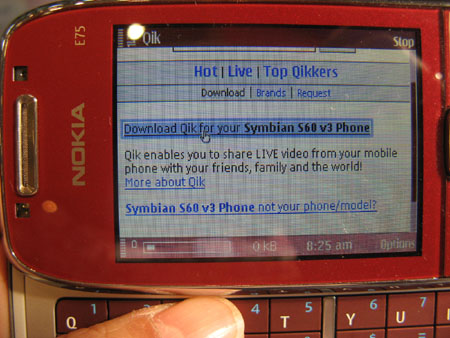 Take note that it consumes a lot of battery power. I tested a live streaming video of my pet cat, Missy for over three hours and the battery was already dying.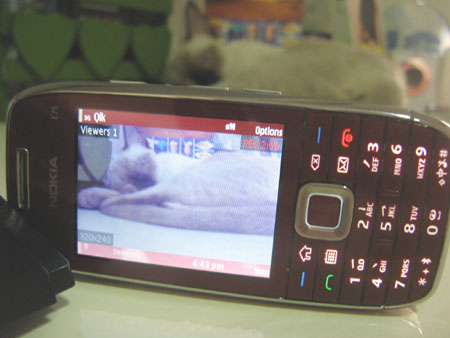 You can view the results of the live streaming video over at my qik.com site , qik.com/noemidado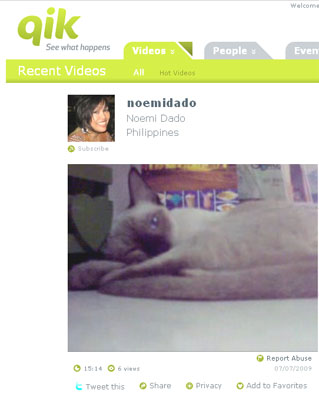 During the period when Nokia messaging is downloading your emails, you might want to make use of the internet time to log on to facebook and Inquirer sites or Twitter or Plurk. That's what I do to make use of the cost of the internet time and to keep in touch with my social network. HSDPA data speeds and Wi-Fi completed with a SMART 3G connection offer fast browsing and websites were comfortable to view and easy to navigate.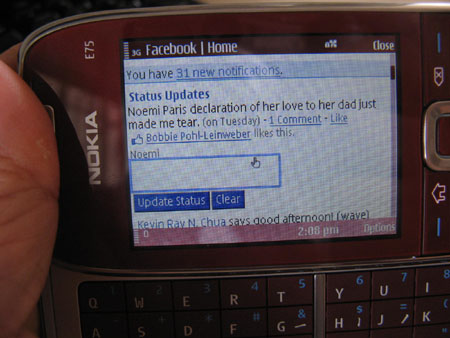 I am not really a cellphone camera user but the photos of E75's 3.2-megapixel seems satisfactory and so much better than the grainy photos I got from my E51. Not the best or sharp photos of my pet cat but the camera can prove to be useful if you need to grab a quick photo.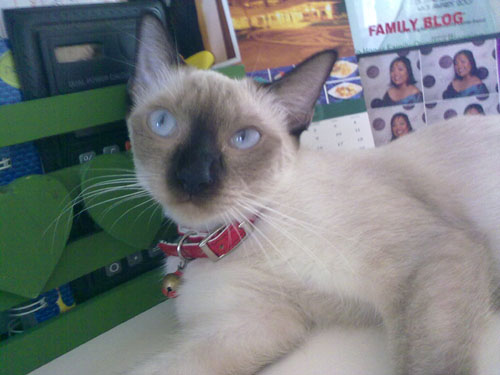 The Nokia E75 is definitely for you if you are looking for a business phone and ease in mobile messaging. It is appealing if you need a cellphone beyond the working environment. For a mobile worker like me, this is a great smartphone to own as it satisfies both business and pleasure.
Nokia E75 Costs P23,560 in the Philippines and it comes in red and black colors. Of course, the red color is very attractive to me because it matches my red leather bag, my red ballpen and red diary.