These days, high-def TVs or monitors and a good sound system is all you need for an amazing visual experience. Samsung is currently the leading brand in LCD TVs and LCD monitors, and before the year ends Samsung bedazzles us some more with brand new HD monitors. These full HD 1080p monitors provide a stunning viewing sensation with their superb 50,000:1 dynamic contrast ratio.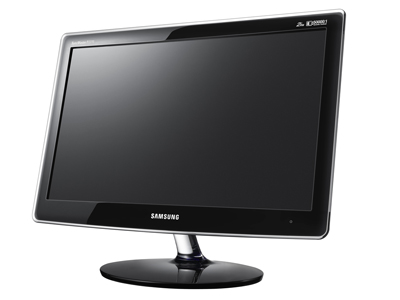 Wouldn't it be great to save your hard-earned money and the environment at the same time? Now you can do both with the new Samsung EcoFit P2270G/P2370G Full HD 1080P. This environment-friendly monitor consumes up to 30% less energy than the average monitor, and is manufactured without volatile organic compounds.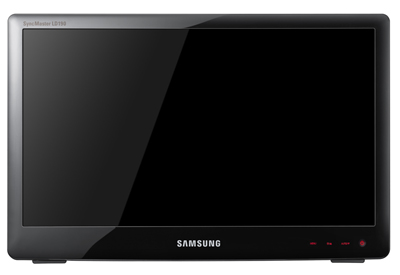 Although notebooks might be convenient, their screens are just way too small and difficult to use. The new Samsung Lapfit LD190G/LD220G solves this problem. Its easy-to-connect USB feature lets you enjoy an extended screen view from your notebook or laptop to the LapFit.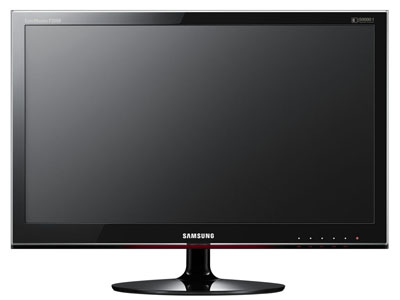 Finally, there are the monitors from the Premium Series. The P2050/P2250 has an impressive 2ms response time and superb 50,000:1 dynamic contrast ratio for vivid viewing pleasure right in your workstation. TV lovers will enjoy how the T240HD/T260HD defies ordinary monitors; it's got a built-in TV tuner so you can watch full HD TV and work on your excel sheets all in one device. Finally, there's the LCD TV Monitor 2333HD's 2High Definition Multimedia Interface. It's got ultra-fast connections for HD peripherals like Blu-Ray players, digital cameras, digital camcorders, etc. As if that weren't enough, this device also has premium sound coming from its built-in 2 channel 3W hidden speaker system.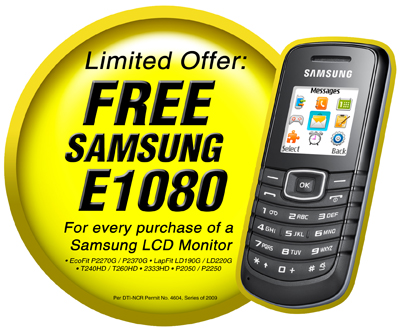 Make sure you buy one of these Samsung HD monitors before November 15, 2009. Samsung will be giving out a free Samsung E1080 mobile phone with every purchase of an HD monitor.