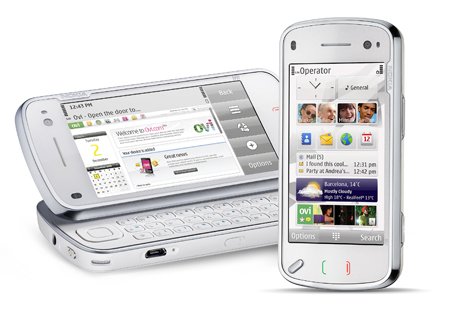 The Ovi Store has been open for business for some time now, with lots of exciting games and applications for Nokia users. And if the holiday spirit isn't quite visible in your mobile phone just yet, you can customize it with Yuletide content from the Ovi Store. There are a number of Christmas themes, wallpapers, holiday recipes, games, even applications that will help you organize your shopping list! Here are just some of the holiday-themed downloads up for grabs at the Ovi Store:
Shoppy Widget – Christmas brings out your inner shopaholic. Even if you despise having to scour the aisles and stores for the perfect present, the holiday spirit somehow makes all the long lines and retail frustrations all worth it. With the Shoppy Widget app, it helps you manage your shopping lists and socialize them with friends- because shopping need not be a chore during Christmas.
Christmas Snow Globe – Sure, it doesn't snow in Manila but it can in your phone! This nifty app from Ovi Store turns your mobile world into a winter wonderland. Shake your touch device and watch it snow, watch it snow, watch it snow!
Christmas themes – From Sims 3; Monopoly; Chuzzle; Bejeweled Twist; Tower Bloxx; and Crazy Penguin – keep the holiday spirit alive even when you play games on your mobile phone.
Interactive Christmas Card – When you care enough to send the very best, get Ovi Store's Interactive Christmas Card and share this interactive card with your friends and family.
Don't know how to shop at the Ovi Store? Click on the jump for a step-by-step guide.
1) Go to store.ovi.com in your Nokia device browser
2) Once in the store you can browse through several different menus:
• Recommended
• Applications
• Games
• Audio & Video
• Personalisation
3) Each menu has a search field where you can enter search terms to find what you are looking for. If you are looking for social networking applications, for example, go to the "Applications" menu and type "social networks."
4) To download an application, simply select it with the cursor or by touching the screen on enabled devices and then select "Download." After downloading the content, it will be installed automatically in your "Applications" folder ("Installations" on the Nokia E71).
5) You will see a description of each piece of content plus a rating (if one has been given). To write a review yourself simply scroll down and select "Write a review." You can also see related content and report any issues you find.
6) To get content from a different menu, simply press the "back" key until you see the main menu tabs again: Applications, Games, Audio & Video, Personalisation, etc.
7) To download a game, for example, simply select the "Games" tab. (It is recommended that you download larger files such as games over a WLAN connection, as the content will download faster.)
8) To buy any content, simply select "Buy" and first enter your Nokia Account details. If you don't have a Nokia Account you will be prompted to set one up. You can then enter your payment details inside Ovi Store. Select countries will allow for mobile billing, but credit cards are accepted globally.
9) At any time you can see a record of your activity or define your browsing preferences by selecting the "Options" menu on your device. Here you can see popular apps, free content, channels categories and more. You can also view your account information.