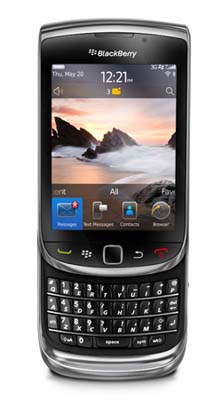 BlackBerry smartphones are easy to recognize with their iconic boxy shape and their full QWERTY keyboard, but it sure is refreshing to see a BlackBerry phone that's a little different from the rest. Take the new BlackBerry Torch 9800, the first BlackBerry phone that has both a QWERTY keyboard and a full touchscreen. I like how sleek and elongated it looks, and I appreciate that the keyboard slides out, which allows you to choose between a backlit QWERTY keyboard or a touchscreen. It also has support for 3G (HSDPA/UMTS), WiFi, GPS for location-based apps, and a 5MP camera withauto focus, scene modes, image stabilization, and zoom.
In addition, the Torch is the first BlackBerry phone to run on the new BlackBerry 6 OS, which has many new features that users will appreciate. First, it has a redesigned interface for easier access and management of your social networking and RSS feeds. The new user interface has integrated access to BlackBerry Messenger, Twitter, Facebook, MySpace, and a dedicated YouTube app. The BlackBerry 6 OS also has a new WebKit-based browser that has tabs for multiple site viewing, pinch to zoom features, and a zoom feature that wraps a text in a column when you double-tap the screen.
Expect the BlackBerry Torch 9800 to be available in the Philippines towards the end of November 2010. Please ask your local carrier or authorized BlackBerry dealer for dates and pricing.