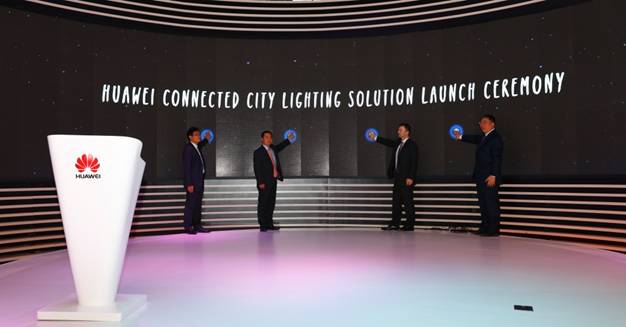 Huawei debuted its Connected City Lighting Solution during CeBIT 2016 in Hannover, Germany. This is the industry's first Internet of Things (IoT) lighting solution with multi-level intelligent control. his innovation will be of great help to cities all-over the world . The idea of a Huawei Connected City Lighting Solution is connecting street lamps to the IoT and adopts a GIS-based management system, enabling cities to enhance the control and performance of every street lamp. The solution provides municipal managers with status information on each lamp, in every street and enables precise control of on-off switches and brightness of individual street lamps, allowing on-demand lighting and a reduction in energy consumption by up to 80%.
Approximately 304 million street lamps exist around the world, and this is expected to reach 352 million by 2025. While street lamps bring convenience to people's lives, they also consume a vast amount of energy and increase management costs for municipalities. London has approximately 35,000 street lamps, resulting in an estimated total power consumption of 56,000,000 kWh per annual, together with inspection costs and maintenance fees, the street lamps significantly impact municipal expenses. Huawei Connected City Lighting Solution is designed to address these issues.
Integrated Smart Lighting Policies to Ensure High Energy Efficiency
Visible Management and Online Inspection to Prevent Failures
Multi-level Smart Control for Enhanced Protection and Reliability
All-layer Openness to Build a Smart City
Huawei Connected City Lighting Solution is another powerful application of Huawei Agile IoT Solution, and an important advancement towards a truly Smart City.