Exciting times for post-paid users as Globe launches its most revolutionary postpaid plan yet. I am sharing the good news to all Globe users.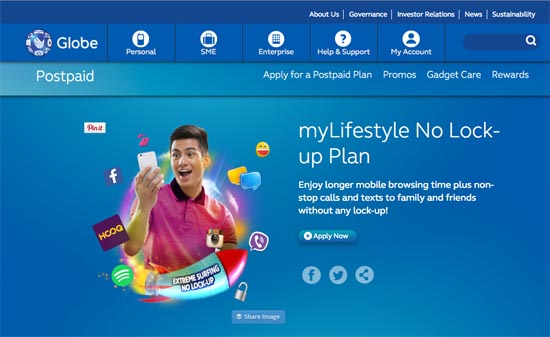 The new Globe myLifestyle No Lock-Up plan lets one surf and stream with almost double the data allocation along with unlimited texts to all networks. Unlike regular postpaid plans, it no longer has a 24-month lock-up, and its bigger data allocation and free content lets one stay connected for a richer digital experience.
The Globe myLifestyle No Lock-up plan also lets customers use the device of their choice, without being limited to any device offer. The application process is also made easier, by just presenting one valid ID.
"For us, it's always been about being at the forefront of all significant innovations. With the new Globe myLifestyle No Lock-Up Plan, we are changing the way customers apply for and enjoy our postpaid services. It's a plan that puts a premium on your lifestyle with the addition of free texts to all networks and a bigger mobile data allocation, making our customer's digital experience richer. Truly, Globe myLifestyle Plans—whether with device or line-only—is built for the way you live," says Globe Senior Vice President for Consumer Mobile Marketing, Issa Cabreira.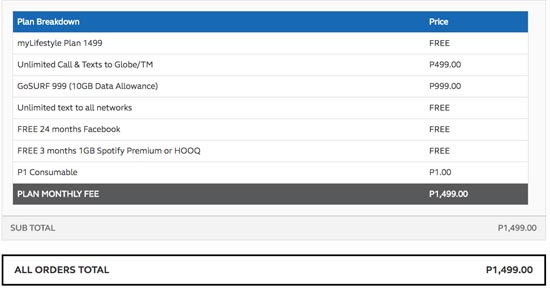 Plan 1499 under a regular myLifestyle postpaid plan comes with 5GB of data. Under the myLifestyle No Lock-Up plans, Plan 1499 has an upgraded 10GB of data. Starting at Plan 599, these new plans also come with unlimited calls and texts to Globe/TM, unlimited texts to all networks and free access to Facebook for 24 months. Customers also get 3 months of free Spotify or HOOQ depending on the plan that they get. One may also add classic packs for extra consumables, or calls and texts abroad. Nano, micro, or standard SIM variants are available, suitable for any type of device.
To learn more about the new myLifestyle No Lock-up plans and apply for a new line, visit www.globe.com.ph/postpaid/mylifestyle-no-lock-up-plan, call 730-1010, or visit a store nearest you.