Enrol for the Digital Business Summit. The $10 limited offer starts on November 14 at  12PM NZDT to 12AM NZDT/ 7AM – 7PM Philippine
Time/ 10AM – 10PM Australia Time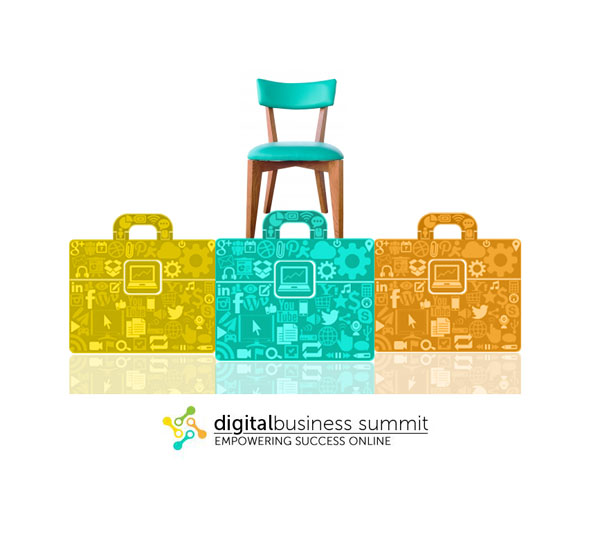 I am a firm believer that one of the solutions to our country's economic woes is that more of us should start a small business and be self-sustaining. With the advent of the internet, business can even start online. Entrepreneurs are an ever-growing part of the economy, and one of the best opportunities to start is through online selling on your own platform or having start-ups. More and more, as people move online and into social networking sites, it is important that entrepreneurs need to be where they are, ready to provide information, answer their queries, as well as provide support in different situations.
Learning from experts is one way to equip entrepreneurs with these social media and digital marketing skills. Check out the The Digital Business Summit that is happening on the 18th to the 27th of November .
The Digital Business Summit (DBS) is a series of online conferences for start-ups and small to medium sized business that would like to maximise online engagement by learning from digital marketing and e-commerce experts.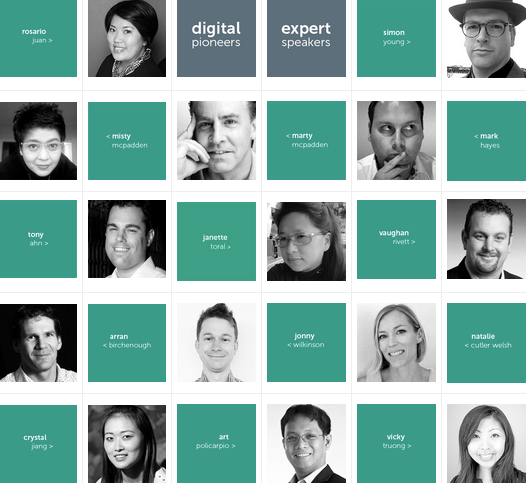 This is an opportunity to learn how to surge ahead of the pack and establish a coherent online presence, regardless of the size of your business or the resources at hand.
The Digital Business Summit 2014 will present different webinars focusing on different topics such as:
• Social media marketing
• Search marketing
• Mobile marketing
• E-Commerce
• Content marketing
• Online advertising
What makes DBS invaluable, is real-world information from diverse and insightful international speakers. Representatives from top digital agencies who are immersed in digital marketing and e-commerce on a daily basis across a wide number of industries will share what they know and answer your questions.
The presenters have all successfully used the web in their campaigns and projects to create value for their businesses. They're sharing their practical knowledge and knowhows with delegates to combine strategy with real, beneficial tactics.
The cost to join the Digital Business Summit is US$100. It gives a participant access to all webinar sessions. On top of the webinars, all participants get a 3-month access to Hootsuite Pro and Hootsuite University for free.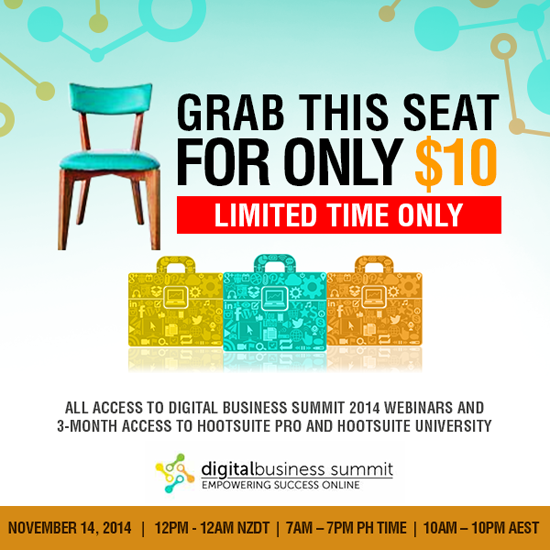 But take note, there is a 90% discount or $10 Campaign to enroll in this summit:
1. On November 14 (Friday), we will offer a 90% off on its price to access to the Digital Business Summit 2014.
2. Price of US$10 is available only for 12 hours.
3. Duration / Hours of Campaign: 12PM NZDT to 12AM NZDT/ 7AM – 7PM Philippine
Time/ 10AM – 10PM Australia Time
Take advantage of this huge discount and a chance to enhance your digital skills and success online.
Enrol here http://thedigitalbusinesssummit.com/product/all-dbs-events/
Schedule: