by Maui Hermitanio as originally posted at the Philippine Online Chronicles
Google is not retiring Gmail. No yet. But it has rolled out a new product that could spell the future of Google's bestselling email service.
Some years back, Google engineers have started to work on a standalone product specifically designed for advanced Gmail users.
The result of that tinkering is the latest Google product on the block — the Gmail Inbox — a standalone app that aims at making Gmail better.
"We found people really wanted to run their life through their inbox — there was so much information there — but it was a lot of work for them" says Alex Gawley, product director of Gmail and Inbox. "The way that people deal with their inbox has changed dramatically," Gawley added.
If you hate the clutter and the disorder every time you check your email on your smartphone, Gmail Inbox will work wonders for your OCD emailing ways.
Launched a little over a month, Google said that Gmail Inbox is a "fresh start" and built on everything that the Gmail team learned from building the world's most popular email platform that is used by over a half a billion users worldwide.
Gmail Inbox works with existing Gmail accounts but its main job is to:
Bundle up your email clutter and get it out of the way.
Highlight emails so you don't have to dig through emails.
Add reminders on top of your inbox.
Snooze emails and reminders and schedule them to come back to your inbox whenever you want.
Basically, Gmail Inbox is a clean email app that also functions as a to-do list. Pocket-Lint has a few good words to say about the app — "It's flat, It's clean, It's fast."
Gmail Inbox works with existing Gmail accounts and it revamps how we view, organize and deal with our daily emails. And it goes beyond email to "help users get back to what matters".
Users can sign in to one email account at a time. To switch between email accounts, simply click the drop-down menu on the upper left to select the email account you want to view. You can also choose to add more email accounts to manage.
The new Gmail Inbox app makes it easier for people to find their most important messages first and simplify the search through their email archives. Messages are automatically sorted and previews of videos, documents and other attachments are also shown.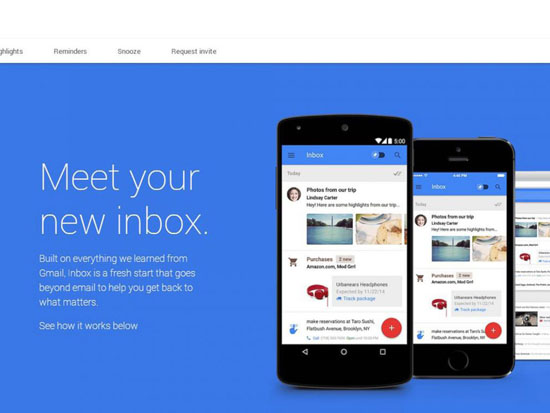 Gmail Inbox 101
When viewing Gmail Inbox on your smartphone, the main screen is also your inbox. All your emails are neatfully categorized and organized automatically based on the following — Travel, Purchases, Finance, Socials, Updates, Forums, Promos. Users can create new categories and adjust what goes in which folders.
The icon on the upper left with three stacked lines opens the main menu screen.
The main menu gives access to your inbox, snoozed and completed items, drafts, sent mail, reminders, trash, spam, default and custom bundles, unbundled labels, settings, and help and feedback.
On the upper right portion, there is a pin icon. This pin button allows you to toggle between pinned items and the main menu. Using this feature, you can pin emails that you need to get back to. This feature makes it convenient if you can't reply or respond to mails right away.
Then there's the create button on the lower right corner (the big red dot with a + sign in the center). Tap the create icon to compose an email, reply or post a Reminder.
When using Reminders, the app also gives suggestions based on Google's search engine. Like for example, you put in a reminder to make a dinner reservation, Google will give you suggestions like reservation time or meeting locations.
Gmail Inbox simplifies your emailing experience. It is available as both a web and mobile app. It is free for iOS and Android devices.
Since it is still on limited beta testing, access to Gmail Inbox is by invitation only. Those who want to try Gmail Inbox for a spin must request an invitation by emailing [email protected].
As with Gmail, it will remain streamlined and optimized to best serve our daily email needs.