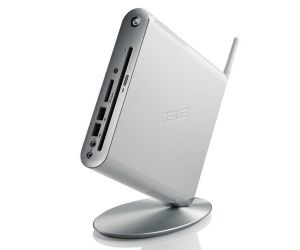 There's a new Asus EeeBox out and if you thought the older models were awesome, you'll want to trade in your bulky CPU towers for this compact device. Despite its size, the Asus EeeBox EB1501 is a powerful machine designed to be the next big thing in home entertainment. It's got 2GB RAM, a 250 GB HD, a dual-core Atom N330 processor, and Nvidia Ion graphics that enables you to enjoy movies and TV shows in high definition. Just plug the Box into your LCD monitorand sit back to enjoy a Full HD 1080p home experience with 5.1 channel surround sound. Aside from these features, the Asus EeeBox EB1501 has an optical drive, DVD-RW, 802.11n WiFi, 4 USB 2.0 ports (for your monitor and speakers), and an SD reader.
And even if you spend the whole evening marathoning How I Met Your Mother or some other equally awesome TV show, you won't have to worry about how much power your machine is eating up. The Asus Eeebox EB1501 has an energy efficient Intel Atom processor and Super Hybrid Engine that allows you to save up to 70% as compared to usual PCs.
No word on availability and pricing in the Philippines, but the Asus Eeebox EB1501 should cost around $580 in the US. It's too bad I just got a new PC last year; if I needed an upgrade, I would definitely get this Box.