Google Cloud's Future '23 event showcased the growth of Duet AI, a powerful AI companion that enhances vario tools within Google Cloud and Workspace. This extension aims to empower a range of professionals, from data analysts and software developers to IT managers and cybersecurity experts.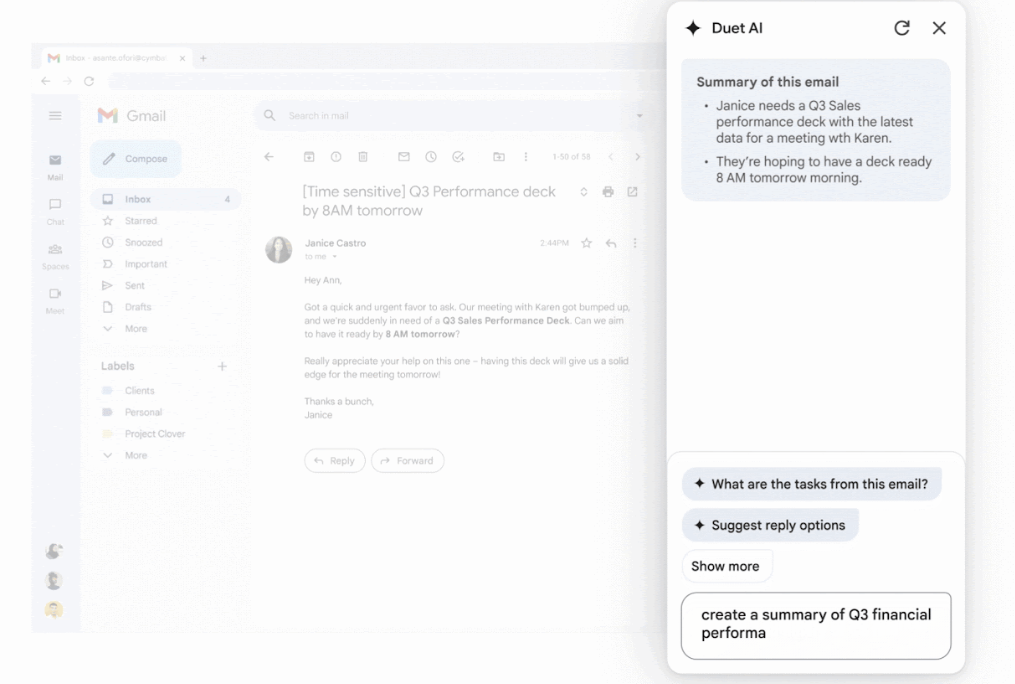 Duet AI is a constant AI partner that works seamlessly with both Google Workspace and the broader Google Cloud ecosystem. In Google Workspace, Duet AI now supports various tasks: from creating content, handling data in spreadsheets, managing projects, taking meeting notes, to designing graphics. At the same time, Duet AI's role in Google Cloud is evolving, improving everything from software workflows to data analysis and online security solutions.
Thomas Kurian, the visionary behind Google Cloud  said: "It's been an exciting year so far for Google Cloud. We've achieved some noteworthy milestones, including in Q2 2023, reaching a US$32 billion annual revenue run rate and seeing our second quarter of profitability, which is all based on the success of our customers across every industry. We unveiled Duet AI at Google I/O in May, introducing powerful new features across Workspace and showcasing developer features such as code and chat assistance in Google Cloud. Since then, trusted testers worldwide have experienced the power of Duet AI while we worked on expanding capabilities and integrating it across a wide range of products and services throughout Workspace and Google Cloud. Today, we're proud to announce new ways we're helping every business, government, and user benefit from generative AI and leading cloud technologies."
Discovering Duet AI's Advancements in Google Workspace:
As a productivity platform, Google Workspace has smoothly integrated Duet AI, aiming to further enrich the experience for its massive clientele of three billion users and 10 million premium subscribers. After the integration, enhanced features such as streamlined content in Gmail and Docs, intuitive image crafting, data-driven insights in Sheets, and enriched collaborations in Google Meet have emerged. Organizations can now experience Duet AI within Google Workspace through a risk-free trial.
Leading Google Workspace, Aparna Pappu, General Manager and Vice President said: "With Duet AI, you get to focus on what matters while it can take care of the rest. Imagine you're a financial analyst and you get an email at 5 PM from your boss asking for a presentation on Q3 performance by 8 AM tomorrow. Instead of scrambling through forecasts in Sheets, P&L Docs, Monthly Business Review Slides, and reading emails from the regional sales leads, you'll soon be able to simply ask Duet AI to do the heavy lifting with a prompt like "create a summary of Q3 performance." Duet AI can create a whole new presentation, complete with text, charts, and images, based on your relevant content in Drive and Gmail. A last-minute request that once called for an all-nighter, can now be completed before dinner time," added Pappu.
Redefining AI's Functionality in Google Workspace
In Google Meet, Duet AI plays a key role by enhancing participant involvement through instant note-taking, actionable feedback, and video snippets. It offers a 'catch-up summary' for those joining in late, and for those unable to attend, Duet AI can step in, ensuring no one misses out.
Additionally, Duet AI uplifts the quality of auditory and visual interactions during meetings, providing on-the-spot translations in diverse languages. Google Chat, too, has undergone a makeover, fostering swift team interactions. Users can now directly engage with Duet AI for content insights and session recaps.
Recognizing the need for fluid communication, Google Chat introduces instant huddles – audio-centric interactions powered by Google Meet. Committed to digital safety, Google Workspace, with the assistance of Duet AI, continues to prioritize user data protection and privacy.
Elevating the Cloud Journey
Beyond Workspace, Duet AI is making waves across the Google Cloud expanse. From assisting with coding to providing specialized insights and bolstering security, it's a boon for professionals across fields.
"Customers are already realizing value from Duet AI in Google Cloud: L'Oréal is able to achieve better and faster business decisions from their data, and Turing, in early testing, is reporting engineering productivity gains of one-third. Duet AI delivers contextual recommendations from PaLM 2 large language models (LLMs) and expert guidance, trained and tuned with Google Cloud-specific content, such as documentation, sample code, and Google Cloud best practices," added Kurian.
Learn more about the changes you can experience by checking out Google Workspace and Google Cloud.