There's been a buzz around Artificial Intelligence (AI) possibly overshadowing human capabilities. According to the experts, the truth is, AI is actually more a tool that can bring out the best in people in various fields. AI can boost humans' innate creativity, resourcefulness, and ingenuity.
"I'm a data analyst and I work with data a lot. So, it's a tough question to ask myself, but then I think about how I can use AI to benefit me. I cannot process large amounts of data in a matter of seconds. AI can do that better. So, it's that partnership of human and machine that brings out the best of what we can achieve," said Nikki Del Gallego, Data and Insights Lead at Google Philippines. "Instead of fearing what would replace us, we can look at what AI can do to enrich us."
"AI is going to give us more time, more space, and more sleep," said Raymund Sison, Partner and Chief Creative Officer at Agency Propel Manila and IMMAP Chairperson for Digital Young Creators.He's optimistic about AI assisting humans in managing hefty data loads, allowing us to channel our energies into creative ideation and strategic planning. With tools like Google's TextFX AI, Sison adds: "You can use AI as your brainstorm buddy, your imagination enhancer, and more. This will open up a thousand creative portals for you,."
AI: The Catalyst for Exponential Growth
Denise Haak, the visionary behind IMMAP, explains, "With AI, your analytics now becomes like 10x because it helps you find patterns that you might have missed, hidden things that you might not particularly see. This helps us get stronger insights that help us make better decisions overall."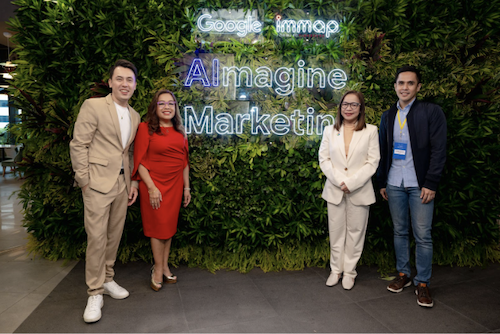 (L-R: Google Ph Comms and Public Affairs Head Mervin Wenke; adobo Magazine Founder, EIC and President Angel Guerrero; Google Philippines Country Director Bernadette Nacario; Google Country Marketing Manager for the Philippines and South Asia Frontier Markets Gabby Roxas)
Case in point: A campaign powered by Google AI for McDonald's used in-app ecommerce data to anticipate user behaviors. This helped pinpoint potential buyers, optimizing their strategy to achieve a whopping 550% surge in conversions and reduced costs.
As Cynthia Dayco, the spearhead of the Boomerang Awards and a content strategist at Metrobank, highlighted, "Some people think that AI is still in the future. No, we're actually seeing it now in some of the award entries." She added: "We actually have a category called Crystal Boomerang for which a lot of performance campaigns that use Google AI have been submitted. Using Google AI, you have greater reach, greater conversions and more incremental revenue."
The Ethical Application of AI
The rapid evolution of AI mandates responsible and ethical usage. Companies are at the forefront, steering the path toward balanced AI application.
Aligned with this ethos, Google, in collaboration with industry giants like Anthropic, Microsoft, and OpenAI, is introducing the Frontier Model Forum.
This team is passionate about guiding the development of advanced AI technologies with responsibility in mind. Together, they're bringing their technical expertise to the table for the greater good of the AI community, sharing insights, setting guidelines, and spreading proven strategies. Google believes wholeheartedly that creating AI is a collective endeavor, involving everyone from governments and businesses to schools and the general public.Their goal? To spark innovations that serve all while reducing any associated risks. With AI opening up endless possibilities, the spark of human creativity shines even brighter.
Check out how AI is transforming today's world, in this YouTube video
.