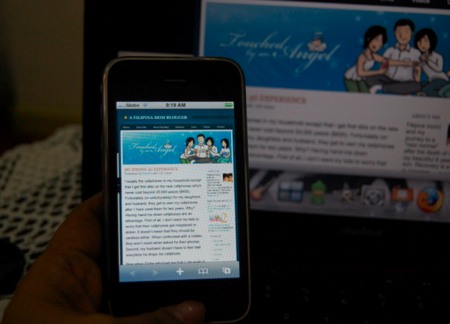 I supply the cellphones in my household except that I get first dibs on the new cellphones which never cost beyond 20,000 pesos ($400). Fortunately (or unfortunately) for my daughters and husband, they get to own my cellphones after I have used them for two years. Why? Having hand-me down cellphones are an advantage. First of all, I don't want my kids to worry that their cellphones get misplaced or stolen. It doesn't mean that they should be careless either. When confronted with a robber, they won't resist when asked for their phones. Second, my husband doesn't have to feel bad everytime he drops his cellphone.

Now when Globe informed me that I can avail of the iphone 3g through the Loyalty Rewards, my ears perked right up. I got even more interested when I found out that I will be getting my iphone 3g at more than half the retail price of Php 37,599 ($835) for the 8GB one, I grabbed the opportunity. It's been over two weeks now since I got my elegant and user-friendly iphone.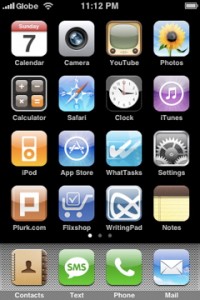 I didn't have much expectations for this phone except that I want my phone to be 3g capable. You know how I rely a lot on internet access for my business. That is all that counts. Fitting snugly in my hand, I got struck by its stylish looks and the use of one mechanical button, the HOME key. While the lack of a keypad can be quite disconcerting at first, I soon got used to the idea of "sliding" and "touching" the screen to interact with and use the phone. The iPhone interface is very intuitive and any technophobe can grapple with this new phone in a few days.
I didn't know many things about the iphone. A lot ask me how does the iphone 3g work with a mommy blogger?
Can I dare say, I got "hoodwinked"?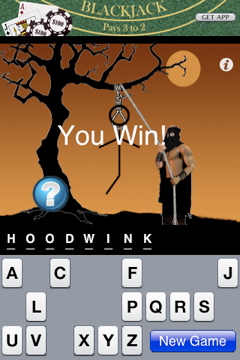 I am just kidding, of course. The iphone is a winner in my books. Using the QWERTY keyboard was a challenge the first few days but I got the hang of it within the week. The darn auto-correction often puzzled my contacts whenever they receive my text messages. And those missed phone calls you receive from me? The touch sensitive buttons just makes it easier to call them. It has its good and bad points.
My iPhone goes a long way from merely being a phone. Directions, entertainment, surfing, news feeds, and games all wrapped into one little elegant device with unlimited potential.
1. I like the large fonts and wide screen display of 3.5 inches At my age, squinting through the Nokia E51 small fonts are hard on my eyes often causing me to have massive headaches. Squinting often might result in deep furrows on my forehead.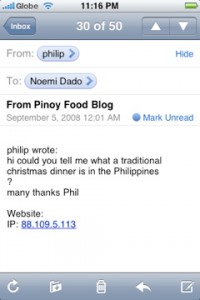 2. Plurking on the mobile version is a fun experience. The QWERTY keyboard makes it easier to plurk and reply to other plurkers. At first, the iphone did not recognize the word "plurk" so when I was talking about plurk, iphone auto-corrected it to Pluto which I was unable to edit because there is no edit button in the mobile version.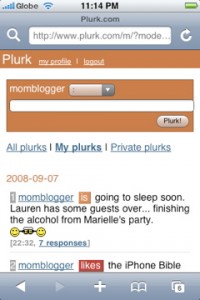 3. Calendar has a more organized feel to it. Being forgetful and lazy at times, I want to see the events for the day immediately without having to click another button.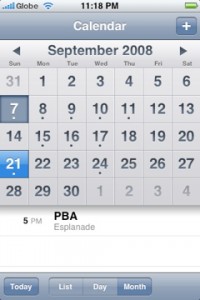 4. The camera takes pretty decent photos.. At the Weekend Market at Celadon Manila , the batteries of my Nikon D40 died on me so I ended up using the iphone 3g camera. I am pleased with the photos I took.
5. I like the useful applications that I downloaded from the Apple itunes app store. With the Apple App store, the device's capabilities are endless. Imagine, I can make my iphone do strange noises when I tap on it, find a restaurant when I shake it or pause a CD from across the room. Some of these apps are free. Others I bought at a nominal fee. I think the applications set the iphone apart from the rest of the phones or PDA. That's what makes this iphone 3g so cool.
Let's start with the Grocery Gadget ($2.99)
Grocery shopping is more organized. I create the fastest shopping list and not overlook anything just by using the Grocery Gadget.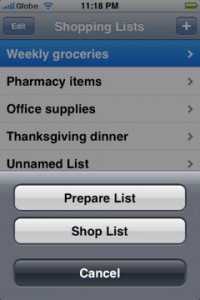 I prepare a shopping list of groceries either from scratch, picking from an editable collection of most common household items (1000 items in the database), or from any previously created "repeat" shopping list.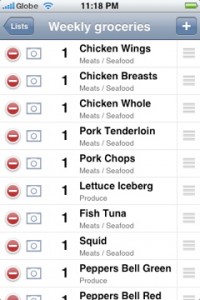 How cool that Grocery Gadget learns the order in which I pick the items. When I shopped again the next time the items appeared in the correct sequence. I can simply travel the supermarket as I go down my list. Any items I did not buy remain in the list even after I reset it in preparation for my next shopping trip. Great tool for shopping!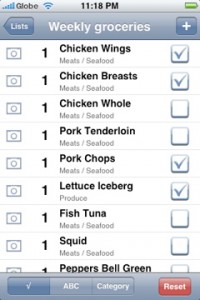 Another great application is Bible Reader (free). When stress hits me, I click on the daily readings. Imagine, I can access the content that's most meaningful to me no matter where I am. The large font size is pleasing to the eyes.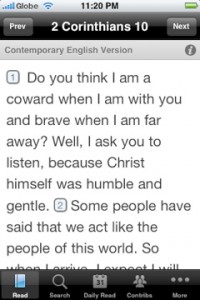 And of course Facebook moblie version (free)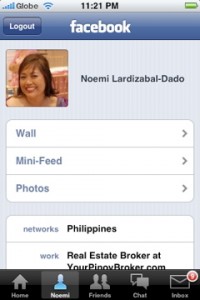 Since I am due to travel outside the country in two weeks, I decided to download some of the handiest travel applications. The Flight Status ($4.99) is going to help me monitor the flights in between states. The App lets me check the status of all passenger flights around the world in three ways 1) By Flight Number 2) By Route and 3) By Airport. Neat!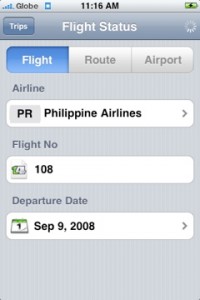 And more Travel tools like AirportStatus (free). It displays a list of airports in North America with delays or closings. I also got Urbanspoon (free) which recommends restaurants in more than 50 US cities using the iPhone's location-aware capability . It even offers reviews from newspapers, blogs and fellow users. And lots more!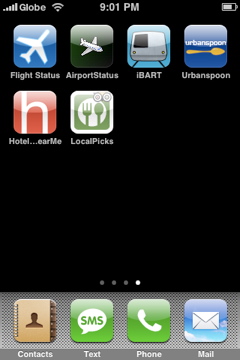 Of course the best app for a blogger like me who has lots of blogs to monitor is the WordPress for iPhone. The App works with WordPress.com and self-installed WordPress 2.5.1 or higher, including WordPress 2.6 and the latest WordPress MU 2.6.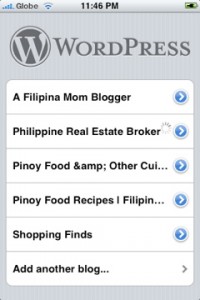 I can edit my entries, moderate comments but I don't think I plan to blog long entries with a tiny keyboard.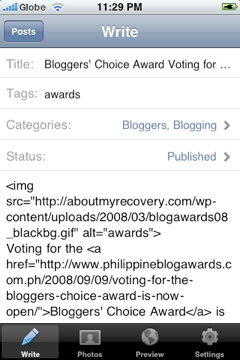 Like Darren Rowse, I don't expect the iphone to be a primary blogging device but it serves as a supporting blogging device. When out of my home office, it saves me time, allows me to be aware of events that are relevant to my blogs.

6. Neat hidden Screen Cap feature…. press Home Button first then press Sleep button. Screen will flash white. You see the screenshot of the iPhone screen I posted in here.
7. Globe 3g and even EDGE connection gives me fast internet connection. Safari downloads web pages faster than the Nokia's web browser.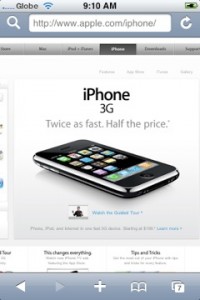 Those are just some of my favorites. I added a few games like Hangman, Sudoku, Treasure Lite, Fortune Cookie, Labyrinth just in case I get bored or when someone wants to play with my iphone.
There are a few irritating things about the iphone.
I can live with it for now by working around its limitations.
1. Battery Life sucks. Whenever I am out of the house, I normally check every hour if I have new emails or interesting plurks. My battery life is cut by 50% if I use my internet connection in just 3 hours. I end up bringing the power charger with me all the time whenever I am out of the house. It helps that I have Nokia e51 as my backup phone in case the battery dies on me.
September 13- Updating to firmware 2.1 improved battery life

2. No SMS forwarding and Group SMS. Apple probably doesn't like SMS spammers. I really need the Group SMS because I send text reminders for meetings with my support groups. I wonder if an app will be available soon.
One more thing. Reading the Philmug iphone Forums helps me on updates and tips to maximize my iphone.
All in all, I'd say I like my iPhone 3G. No it's not perfect, but nevertheless the iPhone 3G is a great gadget. Apple made a phone FUN, yet business capable. It's the most innovative do-it-all gadget I've ever owned.
In two years' time, this iphone will probably belong to my daughter or husband. Who knows what iphone version number will be after two years? For now, allow me to enjoy and play with my new toy and discover the wonders of mobile technology.
Join the Delifrance Tray Couture Contest
The Delifrance Tray Couture Contest Mechanics
My Pinoy Food Blog is giving away 10 Delifrance Tray Couture coupons to 10 commenters! They say that the food we eat reveals a lot about who you are. To get your Delifrance Tray Couture coupon, all you have to do is leave a short comment telling us why your choice of Delifrance Tray Couture set best describes your personality. Check out the The Delifrance Tray Couture Contest Mechanics.