Either my Globelines suck big time or the Apple server is overloaded with requests. I am on my 5th attempt to download the iPhone 3.0 update but either I get a timeout error or the file is corrupt. I will just have to try and try again.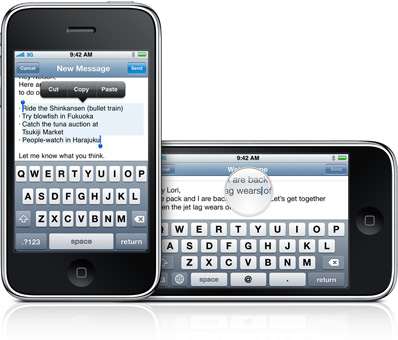 The much anticipated 3.0 firmware update for the iPhone and iPod Touch has finally been released today, with 100 new features to the current software. iPhone users can download the firmware update for free whereas iPod Touch users will need to purchase it through the App Store for $9.95.
Here are some of the new features you can expect from the firmware update:
Cut, Paste, and Copy – You can now cut, paste, and copy text from applications by selecting them with a tap. You can also do the same for images and text from the web too.
Landscape keyboard – By rotating the iPhone, you can use a larger landscape keyboard for Mail, Messages, Safari, and Notes.
MMS – You can now send MMS messages and attach photos, audio, video, and contact info. You can even take a photo or shoot a video inside Messages with just a tap.
Spotlight search – With the Spotlight Search, you can now easily search for contacts, notes, calendars, and songs from your iPod.
Voice memo – Record a voice memo, meeting, or interview wherever you are. The Voice Memo feature works with the built-in mic or the mic on your headset.
Improved Calendar – Subscribe to calendars with the CalDAV support and create meetings through Microsoft Exchange ActiveSync.
Improved Safari – New features include autofill for username and passwords and faster performance.
Internet Tethering – You can share your Internet connection with your laptop with the Internet tethering feature through USB or Bluetooth. Currently it is not available in the US and some countries.
Automatic WiFi Login – The iPhone will automatically log you into a WiFi hotspot you previously connected to before.
Shake to Shufle – With a little shake, the iPod Touch or iPhone will shuffle to a different song in your music library.
Support for New Apps – You can run the next generation of iPhone Apps, like Zicpar, an app that allows you to unlock you car doors or activate your car horn with just a click on your iPhone or iPod Touch.