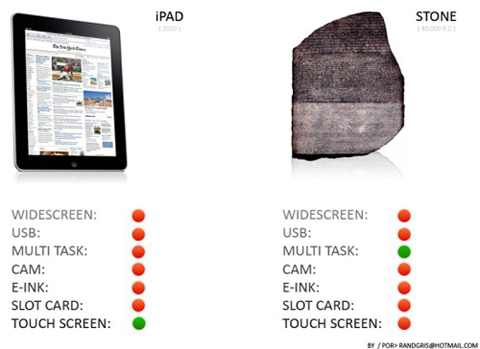 Source
The name iPad is the first sign that the much-anticipated, over-hyped Apple tablet was probably a better device in speculation than in reality. For one thing – iPad? Really? Apple couldn't have picked a more difficult name. Did they ever consider how confusing it would be for countries where an imperfect grasp of American English causes people to mispronounce the iPod as "iPad"? I'm not even going to go into all the sanitary napkin jokes everyone is making.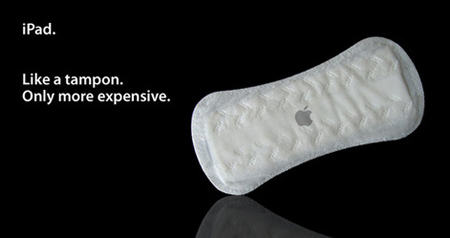 Source
Oh wait, I just did.
So what exactly is the iPad? Basically, it's a 9.7-inch LED-backlet touchscreen display that's about .5 inch thing for easy portability. What it does is basically the same thing the iPhone does minus the ability to call and text. You can use it to surf the Internet, send e-mails, view pictures, you get the idea. But because of the larger screen, the device can easily double as an eBook without too much eyestrain on your part; the rich, high-res LED screen displays everything in bright crisp color so you can read comfortably under low light ocnditions. I think Apple is trying to make the iPad the new Kindle; they just launched a new app called iBooks, where you can read and buy books from the built-in iBookstore.
Other important details of note is that the iPad has 10 hours of battery life and built-in Bluetooth that allows you to use an optional wireless keyboard and an optional camera. That's right, it doesn't come with a camera.
Personally, I'm not impressed, but then again I'm hardly ever impressed with Apple products. Sure, they're pretty and well-designed, but most of the time they're just over-hyped and over-worshipped. Besides, in a world where there is no shortage of cheap netbooks, eBook readers, and smartphones, is there really a need for a device like the iPad?
The iPad comes in 16, 32, or 64GB versions. Price starts at $499 in the US, but I bet it'll cost twice that much here and people will be stupid enough to buy it. WiFi models will be shipping in late March, and 3G models will arrive in April. Find out more at the Apple website.