Today, Steve Jobs revealed what he believes to be "the strongest iPod lineup we've ever hand." The new iPod Nano's design is unlike all the other Nanos we've seen before, plus the new iPod Touch and iPod Shuffle is loaded with all sorts of interesting features.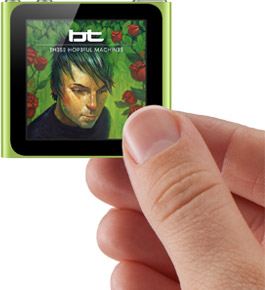 iPod Nano
Apple seems to be hell-bent on making buttons obsolete with the tiny touchscreen square design of the new iPod Nano 6G. It's nearly half the size and weight of the previous Nano, I'd actually be a little scared about it accidentally slipping out of my purse or pocket without my knowledge. Then again, it also comes with a built-in clip, so maybe it won't slip away as easily as I thought it might.
In any case, the Multi-Touch interface lets you navigate your music collection easily by swiping or tapping your finger on the display. Hold down a finger to return to the home screen, and use two fingers to rotate the screen if it's clipped onto your jeans or bag upside-down. You can also customize your home screen by dragging icons from other screens. It's also equipped with the Shake to Shuffle feature, allowing you to change songs with a little shake. Other features include a built-in FM radio, live pause, Genius Mixes, the ability to create and edit playlists, and up to 24 hours of music playback on one battery charge. Expect it next week for around $149 for the 8GB model and $179 for the 16GB model. Both will be available in silver, graphite, blue, green, orange and pink.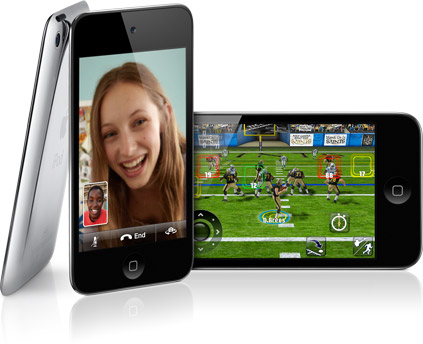 iPod Touch
The new iPod Touch is jam-packed with all sorts of new features – HD video recording, Apple's Retina display, Facetime video calling, Apple's A4 chip, Game center, and iOS 4.1. If you have the iPhone 4, you should already be familiar with the Retina display. But in case you aren't, it has four times as many pixels as before at 960 x 640 pixels, which creates such sharp, realistic-looking images and easy-to-read text. With the new front-facing mic and camera, iPod Touch users can easily make FaceTime video calls over WiFi. There's a rear-facing camera too, which is perfect for recording HD videos. The power-efficient A4 chip provides users with a fast processor, excellent graphics performance, and a long battery-life. And finally, the new iPod Touch is equipped with iOS 4.1, the latest version of the world's most advanced mobile OS. All in all, the new iPod Touch is a major improvement over the previous model, and is definitely one that you should not miss. Like the iPod Nano, the iPod Touch will be available next week for $229 for the 8GB model, $299 for the 32GB model and $399 for the 64GB model.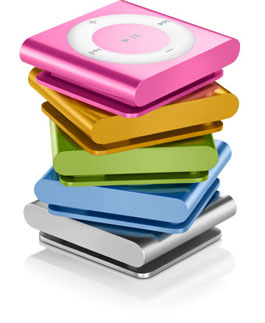 iPod Shuffle
Last but not the least is the diminutive iPod Shuffle. There's no major difference in terms of design and storage capacity (still 2GB), but it comes with the new VoiceOver feature that tells you the title of the song and artist of the track you're listening to. You can also use the VoiceOver feature to hear the names of playlists and switch between them. And if your iPod Shuffle's battery is about to die, a VoiceOver will tell you so too. The VoiceOver also speaks 25 languages so you can hear song titles, artists, and battery life warnings in your native tongue. Available next week for just $49.