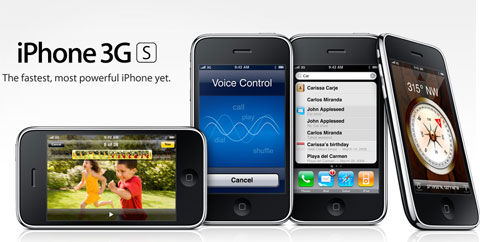 So says Phil Schiller at his keynote live at WWDC, because what the world needs right now is a stronger, more powerful iPhone. The new iPhone 3GS will be available a week and a half from today, in either black or white, with the 16GB model selling for $199 (on AT&T with subscription) and the 32GB model selling for $299 (on AT&T with subscription).
So what will you be getting for your money? According to Phil Schiller, the iPhone 3GS is a greener device with 23% smaller packaging. You can expect up to 5 hours 3G talk time, 9 hours of WiFi internet, hardware encryption, a built-in digital compass, voice-control, a 3-megapixel camera, and video editing are just some of the new features. The new iPhone 3GS is also twice as fast; opening a new message, for instance, will take far less time now.
Phil Schiller also says that the iPhone 3GS will be hitting over 80 countries around the world by August. I'm guessing it'll cost way more than it should by the time it gets here, due to import taxes and whatnot.
Here is a video of the iPhone 3G S Guide Tour