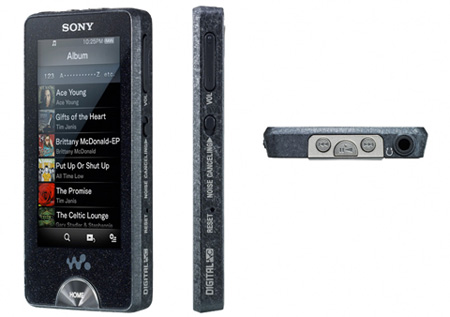 Last week, I talked about the new Sony Walkman lines announced at CES 2009 and expressed my preference for the wearable Walkman W series. But after looking at what the touch screen X series has to offer, I realize that there's a lot to get excited about.
Just like its main competitor, the iPod Touch, the Sony X Series comes in 16GB and 32GB options, and can be used to surf the Internet. While its screen is half an inch smaller than the iPod Touch's, it's an OLED screen rather than a LED screen, meaning it has more vivid colors and better contrast. What makes the X Series completely different from other media players in the market is that it comes with digital noise canceling! The X Series' noise canceling feature allows any 13.5mm EX headphones to block out all ambient noise. That's right, no need for you to invest in those costly noise-canceling earphones that eventually run out of batteries.
Other fun features include the ability to subscribe to podcasts and video feeds (automatic download of new content!), built-in search capabilities, an FM radio, and hardware buttons. Supported audio formats include MP3, AAC, MA, PCM, and supported video formats include MPEG-4, WMV, and AVC.
No news on when it will be released and for how much. But unless it retails for less than $480, I don't think it will even be a threat to the iPod Touch.