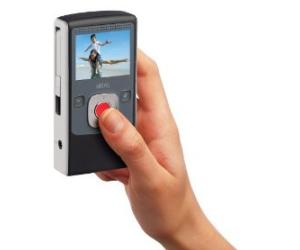 Sad news for fans of the groundbreaking Flip portable video cameras from Cisco. Last week, the company announced that they will stop the production of Flip Video cameras. Flip cameras paved the way for a market of ultra-portable and inexpensive digital camcorders (less than $200) that didn't require flash memory, discs, or other types of removable storage. It's one of the most idiot-proof devices on the market – all you have to do is hit the red button to record, and plug it into your PC or laptop to upload your videos into YouTube.
Most people assumed that the demise of the Flip was the effect of people using their smartphones as an all-in-one device. After all, the iPhone and similar phones have HD recording capabilities. Why carry a separate device for video recording? However, portable recorders generally have more storage, longer battery life, and are equipped with features like image stabilization, longer record time, and high frames per second. And while video recording is a nice feature to have on a smartphone, you also risk breaking your phone or getting it snatched from your hands when you use it to shoot videos.
Perhaps the most accurate reason for discontinuing the Flip is that Cisco intends to focus on their core customers. It turns out that Cisco's main products and services are geared towards medium to large businesses and governments, and there's just no room for The Flip.
In any case, now is your last chance to buy a Flip! Available at leading stores like Ansons Appliance, Camerahaus, Complink, Digital Walker, Human (Festival Mall, Glorietta4, Trinoma, Megamall, Eastwood and Galleria), Memo Express, Photoline, Power Mac Center, Robinsons Appliance Stores, SM Department Stores, SM Appliance Stores, Villman Computers and 5th Avenue.