Bloggers and media will be invited to a public launch on May so stay tuned for the invite.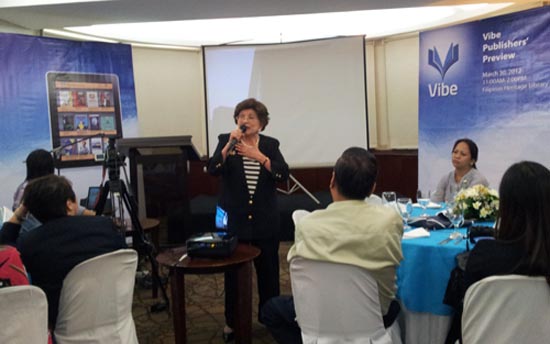 I am proud to be part of Vibal Foundation (Via the Philippine Online Chronicles) that I want to keep sharing their projects. All their projects tie in with the foundation's slogan. "Open Books, Open Minds". Their latest is Vibe Philippine E-Bookstore.
I first saw the Vibe app, when Gaspar (Gus) Vibal and Kristine Mandigma showed me a prototype sometime August 2011. I was really excited and could hardly wait to get the app.. but there were many things to be done to make it fully functional. Inspired by the National Book Development Board's Booklatan sa Bayan program, Vibal Foundation uses this cloud-computing project to make available to the reading public a wide range of newly published, out-of-print, or public domain book titles. The project addresses the issues of high printing costs, fragmented distribution channels, and delayed time to market, which are faced by all printed matter in the Philippines. Vibe is also an effective tool for independent publishers and authors who wish to sell their works directly to the public.
Gus Vibal, the executive director of Vibal Foundation first explained the project on October 2011 at the Kape + Teknolohiya to entpreneurs and technology enthusiasts, technology and education advocates at the Technohub. Then Kristine Mandigma introduced Vibe to bloggers at a gathering at the Filipinas Heritage Library shortly after.
It is an innovative project for many reasons.
1. The Vibe app is developed by Filipino software developers.
2. The unique Vibe books' interactive features contains include animation, scores, embedded videos, and interactivity that appeal the reader's senses. Some of the books also have built-in encyclopedias. With these features, Vibe promises that "the world of reading will never be the same."
3. With a minimum of 20 titles, you can get your own customized storefront .
4. Sign up with Vibe , and they will convert your books for free.
5. Retain 70% of the retail price for every book sold.
6. Distribute your books to local and international markets.There is no exclusivity agreement. You can still sell your ebooks to other publishers.
7. It has its own encryption (not Adobe encryption where it can be easily hacked) so books won't just be sold elsewhere or transferred to another user.
8. There is print -on-demand available anywhere around the world.
At the Vibe Publishers Preview last March 30, 2012 was very well-attended by local publishers. The organizers thought only 30 would show up but it seemed the publishers were excited about this as well. Gus Vibal presented the Vibe Bookstore and Vibe reader. There were many features that were not present when I saw it last November.
The public launch will be sometime early May. Bloggers and media will be invited here so stay tuned when I send out an invite. In the meantime, browse through the Vibe Bookstore for more details. While at it, check out the free books as well as the other titles that can be bought via Paypal. Soon G-cash, credit cards, and other payment scheme will be added.
Watch this Vibe app/ bookstore video


Frequently Asked Questions
What is Vibe?
Vibe is the first electronic bookstore of the Philippines. This year Filipinos will be able to easily access and buy all kinds of reading material on their smart phones and mobile devices. Vibe is also the name of a reading application (app) that will be downloaded for free and installed on users' PCs and Mac computers, Android devices, as well as on iPhones and iPads.
What is the mission of Vibe?
Aligning itself with the core mission of and inspired by National Book Development Board's Booklatan sa Bayan program, Vibal Foundation is using this cloud-computing project to make available to the reading public the widest number of newly published, out of print or public domain book titles, as well as magazines and newspapers. The project addresses the problematic issues of high prices, fragmented distribution channels, and delayed time to market that all printed matter in the Philippines face. Vibe is also a wonderful tool for independent publishers and authors who wish to sell their works directly to the public.
What are the advantages of Vibe?
With Vibe, publishers can reduce their time to market. E-book versions can be simultaneously launched with its print version, assuring nationwide availability as long as there is a mobile phone signal or Internet access. Depending on each publisher's strategy, electronic editions can be substantially reduced in price considering that publishers save on paper, printing, distribution and marketing costs. Publishers can also offer more affordable reading options to budget-minded consumers by offering limited-time licenses, which allow readers to read print material that automatically lapses within an agreed 7-day, 14-day or one-year period. Magazine and newspaper publisher may even offer subscriptions directly within Vibe. Independent publishers will be able to publish books as solely electronic editions, foregoing completely the cost of manufacturing and distribution, with the added benefit of instantly reaching millions of readers. Textbook publishers will be able to sell tablets with interactive textbooks directly to schools with their content already pre-loaded in a secure and traceable manner. Vibe is a universal reading application (app) program. Vibe can read and display both flat and interactive reading material. Vibe has the functionalities of several reading apps currently available in the market such as PressReader (e-newspapers), Zinio (e-magazines), Apple AppStore (storybook apps), Kindle and Apple iBooks (e-PUB formatted books).
What makes Vibe different from other e-book stores like Amazon Kindle, iBooks, etc.?
Vibe is designed with the needs of Philippine readers and publishers in mind. Unlike foreign-based e-bookstores like Amazon Kindle and Apple iBooks, which utilize credit cards as their main payment method, Vibe accepts payments through Globe GCash, SMART Money, and other widely used local services, such as load wallets or pass-a-load, thus having great appeal to the Philippine market. Philippine publishers however can also simultaneously deploy their content to the international market, because Vibal Foundation has direct accounts with the three major international e-bookstores: Amazon Kindle, Apple iBooks and Barnes and Noble Nook.
As a publisher, how can I sell my books in the Vibe store?
Simply open your own publisher's account using Vibe's business front end called PublishersConnect. You can directly and securely upload your own ePUB or PDF files to Vibe. We strongly advise publishers not to attach unsecured book files to e-mails or to copy them to USB devices or CD- ROMs.
What electronic publication formats does Vibe support?
Upload electronic versions of your magazines or newspapers as PDFs. Submit electronic versions of your books as ePUB files.
What is ePUB?
ePUB is an open standard and format for creating and selling electronic versions of books and has quickly become the de facto standard of the international publishing industry. The world's largest e-book stores, including iBooks (over 60,000 titles) and Amazon Kindle store (over 450,000 titles) support this format. ePUB is a standard maintained by the International Digital Publishing Forum (IDPF). ePUB version 3 guidelines, incorporating the use of HTML5 and Math Markup Language (Math ML) were published on 15 February 2011. These developments build on ePUB's eminent suitability for math textbooks and interactive activities.
What are the technical details that I have to know about ePUB?
ePUB stands for "electronic publication." All ePUB files are suffixed ".epub."
Its format is a combination of three different open text/document formatting standards. It is supported by a wide variety of e-book readers, including Apple's iPhone/iPad and Amazon's Kindle. It was developed to be an industry-wide standard for e-books, with the potential to surpass other formats.I don't have any in-house facility to convert my PDF files to ePubs.
How do I go about converting my books?
As part of its digital literacy program, Vibal Foundation has already digitized over 1,000 public domain titles. In addition the Foundation is currently helping dozens of Philippine publishers in mass digitization efforts. It also has over 5 years experience assisting national and local government offices on their electronic publication projects. The Foundation can help convert your print titles into ePUB e-books. You also have the option of converting your own e-books and uploading them directly to the store. For example Calibre is a widely available free and open software for converting your books to ePUB files. All preliminary ePUB files, whether supplied by you or the Foundation, undergo a validation process to ensure correct formatting and syntax.
What is the difference between ePUB and PDF?
Portable document format or PDF files are designed to look the same as the printed page no matter what device you view it on. In ePUB format, the text is reflowable, which means that the layout of the text automatically adapts to the size and orientation of the window or screen. This makes it much easier to read on various devices. You can make the font size bigger without having to scroll sideways to read the rest of the page. PDFs are the default standard for presenting electronic versions of magazines and newspapers. Vibe also offers support for PDF files.
When you convert a print book or PDF to ePUB format, will it look exactly the same?
No. The reflowable text of the ePUB format means that the text layout can change depending on the size or orientation of the screen you view it on. Multiple text columns are also supported. Tables will be converted into graphics in order to display properly.
What kind of interactive functionalities are supported by Vibe?
Vibe is a multi-platform and universal reading application. It can read flat, enhanced and interactive books and magazines. Vibe supports both ePUB and its proprietary VIBE format, which supports a fleet of interactive functionalities. ePUB version 3.1 supports embedded hyperlinks, whether internal or external, embedded audio-video, HTML5 and Math Markup Language. With the VIBE software development kit, publishers can easily build interactive features into their reading products, such as the ability to self-score tests and quizzes, answer survey questions, return results to a master tablet, decode QR codes, or embed database functionalities into a book.
How secure are my files when I send them in for conversion?
After you check in your files, they are automatically encrypted and stored on a central file server that acts as a vault. This vault is not physically located in the Vibal Foundation premises. The Vibe server is deployed into the cloud using Amazon Web Services. AWS provides world-class storage, security and availability. Currently two of flagship websites of Vibal Foundation have already been deployed into the Amazon cloud, namely, Filipiniana.net and Wikipilipinas.org, the latter already reaching 800,000 monthly visits.
How do you prevent e-books from being stolen or pirated?
Vibe e-books are stored on a production server linked to a cloud server and are sent as encrypted files when transferred to a reading device. The encrypted file can only be decrypted when a device sends a request to the Vibe server. Decryption is only made possible after three different security keys are matched. The reading program is only able to decrypt the file after all three keys are complete. The Vibe store is an ecosystem that automatically records these three keys. The server tracks these decryption requests, allowing us to pinpoint anomalous activity and flag suspected pirates.
Can my encrypted ePUB books be transferred from an Android device to another, via a USB port?
Although they can be copied from an authorized reader's Android device and transferred via a USB stick, the pirated file remains encrypted and will not function because both the user and device security keys will not match. Also to guard against text or image harvesting, when an ePUB is unzipped or unpackaged, the resulting text file only displays gibberish and unintelligible characters, thus protecting whatever is wrapped into the ePUB file, whether text, images, or HTML5 code.
Can my e-books in Vibe be printed or exported?
Vibe, like iBooks reader and the Kindle app, does not allow users to print whole pages of text. The only way for a user to export and print book text would be to manually select, copy, and paste text paragraph by paragraph into a note application on their reading device. Then they would need a third-party software to be able to remotely print their text extracts.
How do I manage my Vibe titles?
Publishers will be able to log on to their account through the website. They can upload, publish, revise and manage their e-books, as well as access sales reports.
How can I keep track of my sales?
Publishers can access sales reports by logging on to their account. Sales reports are updated daily. Payments are remitted monthly. Vibe acts as the publisher's agent (in Filipino "ahente") and deducts a nominal commission. You remain as the publisher and have the fiduciary responsibility to remit withholding tax.
Can I just convert my books to ePUB files and distribute to the public without using Vibe?
We do not recommend giving anybody a copy of your unencrypted book files, whether stored in ePUB or PDF formats. For a publisher to have security of mind as well as maximum security over his or her digital assets, all e-book files should only be deployed through a securitized ecosystem, meaning a content server with digital rights management and e-book reading program. The combination of both Vibe e-bookstore and the Vibe e-reading application program provides a complete ecosystem to match each digital file with a unique reading device number and a unique reader ID.