With the Philippines having a young and digitally astute population, the report highlights these key findings:
96.1% of Gen Z consumers in the Philippines shop online, particularly for fashion-related purchases.
85% of Gen Z consumers are also social media-savvy and are greatly influenced by "likes" or "comments" when deciding whether to buy something online.
92.4% of Filipino respondents who are parents say that their children influence their purchases.
88.5% of Filipino parents said their children introduced them to new technology or online apps.
The upcoming decade promises a surge of over a billion new digital consumers, hailing primarily from eight rapidly advancing countries, a recent study by global consultancy firm, Accenture (NYSE: ACN) reveals. This rise in digitally proficient consumers is set to revolutionize growth avenues for businesses worldwide.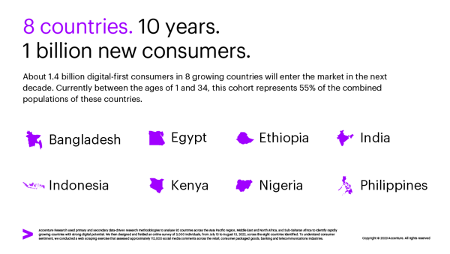 The countries in focus – Bangladesh, Egypt, Ethiopia, India, Indonesia, Kenya, Nigeria, and the Philippines – house these rising digital consumers, whose ages range between 6 and 26. These countries make up 36% of the total population of these nations. The behavioural patterns of these digital citizens provide crucial pointers for businesses eyeing the next wave of commerce-driven expansion.
In a report titled "The Next Billion Consumers: A Fast-growing Opportunity for Digital Commerce," Accenture Song proposes that these up-and-coming consumers present a lucrative opportunity for multinational companies. This is particularly due to digital commerce's role in mitigating traditional market entry obstacles. Interestingly, the study also unveils that despite a fourfold surge in digital commerce revenues in these markets since 2017 – amassing $211 billion in 2022 – the majority of multinational corporations remain ill-equipped to cater to these digital-first consumers.
Fabio Vacirca, Global Commerce Lead at Accenture Song, points out, "These fresh-faced consumers bear significance for firms currently operating in these nations, as well as those multinationals aspiring to broaden their global reach. Approaches rooted in the westernized concept of consumerism, where the shift from brick-and-mortar to digital commerce is a slow, gradual process, will fall flat. Companies must adopt a digital-first mentality, side-stepping dated legacy approaches."
The report lays bare the potential of these new-age consumers to redefine shopping habits, with their digital behaviours likely to impact and mould purchase practices on a larger scale. Four central digital shopper archetypes emerged from a survey of 3000 digital consumers spread across these eight countries: digital native buyers, digitally adept millennials, digital native content creators, and digital alpha influencers.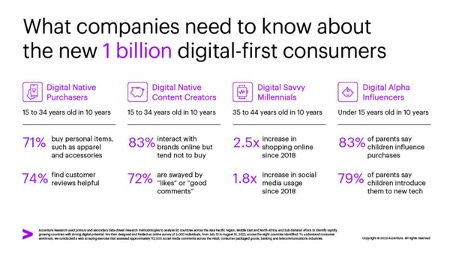 Spanning Gen Alpha, Gen Z, and Millennials, these four key consumer categories already spend a significant chunk of their time online while browsing, contemplating, and purchasing. Here are some insights about their digital consumer behaviour:
• An overwhelming 80% of these consumers use digital channels like search engines, social media, and videos for product or service research before purchasing.
• The majority of these consumers favour social media shopping over other platforms.
• Six out of ten social commerce shoppers are likely to repurchase from the same vendor.
• 65% of these consumers prefer online payment methods, with convenience in delivery, like click-and-collect (73%) and free delivery (79%), being paramount in their online purchase decisions.
• Three out of four consumers consider easy-return policies as a significant factor in their online purchasing decisions.
Vacirca elaborates, "We're experiencing a critical shift in commerce, reminiscent of the drastic shift in telecommunications when consumers transitioned from landlines to mobile, or the entertainment industry's shift from theaters to streaming services. Businesses primed to seize this opportunity will recognize the need for internal digitization to match their external persona, reinventing their commerce models to cater to their future consumers' needs."
The report also provides strategies to unlock digital growth in these rapidly advancing nations, leveraging consumer insights to transform outdated commerce strategies into engaging, seamless, and relevant experiences.
In terms of research methodology, Accenture Research relied on primary and secondary data-driven research methodologies in 2022, analyzing 92 countries across Asia Pacific, the Middle East and North Africa, and Sub-Saharan Africa to identify those with robust digital potential and rapid growth. An online survey of 3,000 individuals from the eight identified countries was also conducted from July 13 to August 13,