Those of us who were trying to contact our family and loved ones during the height of Typhoon Ondoy probably noticed the lack of signal and service from Globe. It seems like Globe is making up for it through various rebuilding and donation efforts like the Globe Bangon Pinoy Program.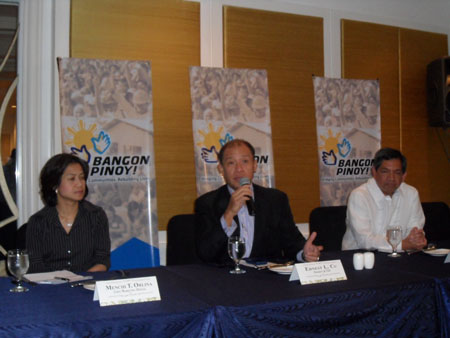 Through a series of relief operations, network restorations, financial assistance programs, and community-building activities, Bangon Pinoy hopes to help rebuild the country in cooperation with the local government and partner NGOs. Its initial operation started with the clean-up at Gawad Kalinga Camacho in Marikina, followed by a visit to Concepcion Integrated School to restore the school's Internet connection and bring new computers for the students. In cooperation with various church and local government units, Globe was also able to set up several Libreng Tawag, Libreng Internet, and Libreng Phone Charging Stations in affected areas all over Metro Manila and North Luzon. Bangon Pinoy is also scheduled to visit schools in Baguio City to bring new tables, chairs, and books. They also intend to start constructing a two-classroom building.
To date, Globe has provided relief goods to 17,000 famillies in Marikina, Rizal, Laguna, Pangasinan, and Muntinlupa. Globe BridgeCom has also donated P5 million to various foundations for flood victims. But donations aren't the only things Globe will give. Through Bangon Pinoy, Globe also intends to help local entrepreneurs get back on their feet by preparing short and long-term programs to help them rebuild their business. They will also give special assistance packages to Globe load retailers in Marikina and Rizal.
It's a really good thing that corporations and NGOs are so active in the rebuilding effort, especially since our own government seems to be doing very little or nothing about it.