Good news to those who want to own an Android, Samsung Galaxy, bundled with   data plans. I am sharing this now because I have been quite pleased with Globe Mobile 3G services. In fact as I type this, I am using my iPhone via internet tethering because my main ISP, the Globe DSL broadband is FAIL!
Check the new gadgets in store.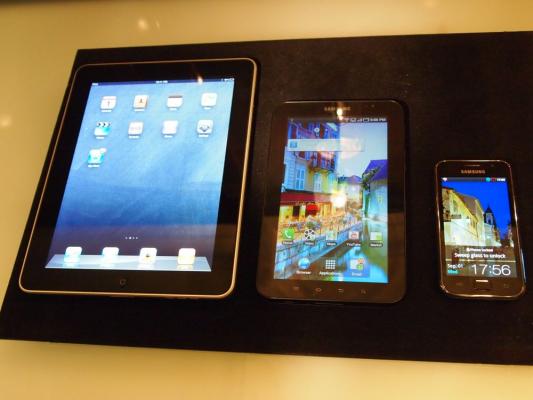 Up-to-date handsets and devices
Globe offers an array of the world's most hardworking smartphones with a free 30-day trial of Globe Super Surf so users get to enjoy the full experience of their gadgets while to surf the net their way. The Huawei Ideos u8150, rated as one of the best-valued handsets by global tech experts, is one of the world's cheapest Android smartphone. Powered by an Android 2.2 Operating System (Froyo), the Ideos u8150 can be customized with communication, entertainment, productivity and gaming applications. The Ideos u8150 also doubles as a wifi router for up to 8 devices at a time. It comes in black, yellow, blue and purple, perfect for those who want to match their phones with their personalities.
Samsung, partners with Globe for a mobile internet bundle for its best-valued Android mobile phone, the Samsung Galaxy 5 i5503 Europa. The Europa is powered by a 600 Mhz processor that's fast enough for gaming, sending Tweets, viewing Facebook photos and even reading eBooks. You can also use this phone to stream your music to other DLNA-compliant TV or audio system at home.
The Huawei Ideos u8150 and Samsung Galaxy 5 i5503 Europa both come free with Globe MySuperPlan 499 and 30 days of Super Surf.
Globe is also introducing two of Samsung's latest devices—the Samsung Galaxy Mini s5570 and the Samsung Galaxy Ace s5830.
The Samsung Galaxy Mini s5570 is small in size, but big on fun and function. Running on an Android 2.2 (Froyo), the Galaxy Mini features a microUSB port and microSD card slot and supports Wifi 802.11b/g/n and Bluetooth 2.1. It's perfect for stylish and trendy teens or the young-at-heart who want multimedia functions like a radio and a photo gallery yet simple enough to use. The perfect gadget for smartphone neophytes,  it also offers Google™ voice actions and Quick Office document viewer, all powered by a 600MHz processor.
For those who want an android that works as hard as they do, the Samsung Galaxy Ace s5830 is the way to go. It runs on Google Android 2.2.1 Froyo version with Samsung's proprietary TouchWiz 3.0 UI layered on top of it. The galaxy ace packs with a 2GB microSD card and one can add up to 32GB microSD card for additional storage. For good quality imaging, the Galaxy Ace has a 5 megapixel camera with autofocus and an LED Flash. It supports quad-band GSM/GPRS/EDGE networks, which offers up to 7.2Mbps speed for HSDPA data connections. Apart from that, the galaxy ace has Wi-Fi (802.11 b/g/n) and Bluetooth 2.1 support and integrates Gmail, Social Hub, Google Maps (Latitude, Places and Navigation in Beta) and Android market.
The Samsung Galaxy Mini s5570 comes free at Globe MySuperPlan 999, while the Samsung Galaxy Ace s5830 is free at Plan 1799. Both are bundled with 30 days of Super Surf for free so users can experience and enjoy mobile internet their way.
Apart from handsets, Globe is also carrying the Huawei Ideos S7 tablet. Powered by Android 2.1, Éclair, the S7 tablet is a no-frills gadget that boasts of a 7-inch TFT  capacitive touchscreen, 800×480 pixel resolution and 720p high definition video playback. Running on a 768MHz Qualcomm Snapdragon processor, the S7 provides users quick and easy access to information through its 3G function. It's one of the most affordable tablets in the market, and comes free at Plan 999 with free 30-day trial of Super Surf.
Exciting mobile phone applications
Fully-loaded gadgets and a data plan isn't enough for users to enjoy all that techie power in their hands. Mobile applications, simply known as apps, are just the thing to customize each smartphone. For a complete mobile data experience, Globe has partnered with GetJar, the world's second largest independent app store, for an array of free apps available on the Globe WAP site (http://m.globe.com.ph). Popular apps on the Globe WAP site include Snaptu, an all-in-one app that allows the user to access popular services, varying from social networks like Facebook, Twitter, Flickr and Picasa to entertainment news, blogs, sports and local guides; Nimbuzz, an ultimate all can messaging app; and the addicting physics-based game Angry Birds.
Affordable data plans
The mobile browsing bliss on Globe can last longer, thanks to Globe's more affordable mobile data plans. Super Surf is now at P999 for 30 days, equivalent to just P33.33 per day; while Power Surf, a consumable mobile internet offer, now comes in a daily P15 variant for 60 minutes. It's the most affordable prepaid data plan in the market at the equivalent of just P0.25 per minute.
Business research and consulting firm Frost & Sullivan expects mobile data in the Philippines to grow dramatically over the next five years. The country also has the highest data usage figures in the region with 54% of the total data usage compared to its Asian neighbors.