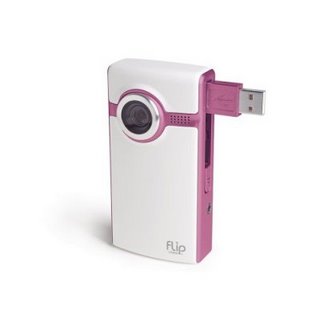 When I was at the US, my aunt was raving about this little gadget she got at Walmart for less than $150. It's called The Flip and it's a tiny little digital camcorder that resembles a cellphone and is about the size of the first iPod – four inches tall, 1.25 inches thick, 2.25 inches wide, and 4.9 oz heavy. It was strange hearing her talk about a new gadget because she's pretty much a technophobe, but she told me that the beauty of the Flip is that it's so simple and easy to use. All you have to do is record your video, plug the camera into your computer, and upload your video straight to YouTube. No need to install drivers, look for cables, or anything like that (although there is one cable so you can watch videos on the TV).
The Flip is powered by 2 AA batteries or rechargeable 1.2v lithium batteries and has its own built-in memory (1GB), which can hold up to 60 minutes of video (there's also another Flip that comes with 512mb for 30 minutes of video recording). The video's quality is a resolution of 640×480, 30 frames per second, and 2.8Mbps video bitrate. You can preview your video on the Flip's 1.5-inch LCD screen (280×120 pixels). Once you're satisfied with it, all you need to do is flip out the built-in USB connection, plug the camera into your computer, and upload your video straight to YouTube.
Naturally, I ended up being her first test subject. Here's the first video she took using her Flip.
Because it's so easy to use and it performs exceptionally well for its cheap price ($149.99 for the 60-minute model), the Flip is quickly becoming the most popular low-end video camcorder on the market. I wonder when this will be available in the Philippines, and if it will sell for the same price.