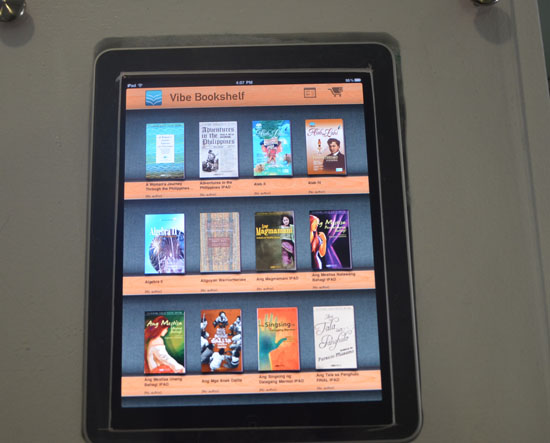 I am quite excited with Vibal Foundation's latest venture, the Vibe electronic bookstore, the first in the Philippines. With Vibe, Filipinos will be able to access and buy all kinds of reading material through their smartphones, and computing devices. VIbe is also the name of a reading application (app) that can be downloaded for free and installed on PCs (Q1 2012), Mac computers (Q! 2012), Android devices, iPhones and iPads.
Gaspar Vibal, executive director of Vibal Foundation explained the project on Wednesday at the Kape + Teknolohiya to entpreneurs and technology enthusiasts, technology and education advocates at the Technohub. I have been aware of this project since August and am helping the foundation invite bloggers to the launch on October 22. There is so much to be excited for.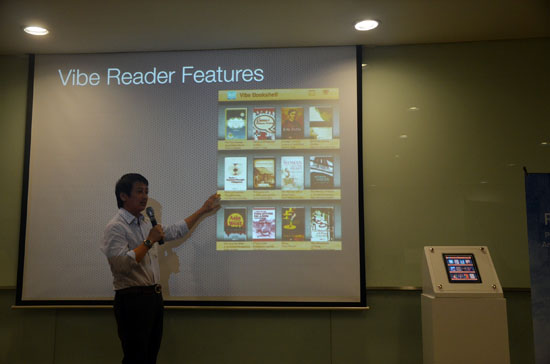 Inspired by the National Book Development Board's Booklatan sa Bayan program, Vibal Foundation in partnership with Vibe Technologies Inc, is using this cloud computing project to make available to the reading public a wide range of newly published, out of print or public domain titles. The project addresses the issues of high prices, fragmented distribution channels and delayed time to market, which are faced by all printed matter in the Philippines. Vibe is also a wonderful took for independent publishers and authors who wish to sell their works directly to the public.
Vibe is a reading application that can read and display both flat and interactive reading material and has the functionality of several reading apps currently available in the market such as Apple Appstore (storybook apps), Kindle and Applie iBooks (ePUB formatted books). It also gives a whole new meaning through the app's built-in interactive features that appeal to senses. Readers can make photos come to life with a touch and enjoy sights and sounds on a page through embedded videos. With Vibe the world of reading will never be the same.
With Vibe, publishers can reduce their time to market. E-book and print versions can be launched simultaneously, assuring immediate nationwide availability wherever there is mobile phone signal or internet access. Depending on each publisher's strategy, electronic editions can be substantially reduced in price, factoring in savings on paper, printing, distribution and marketing costs. Publishers can also cater to budget-minded consumers by offering limited-time licenses which allow readers to read material within an agreed upon 7-day, 14- day, or one -year period.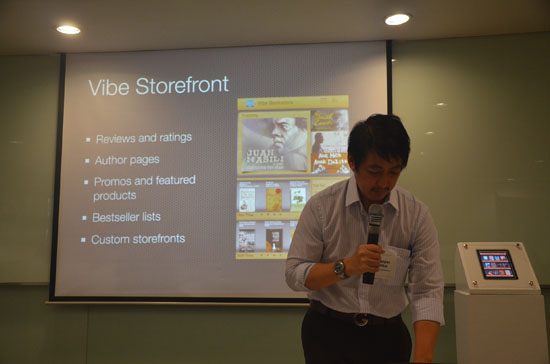 Independent publisher can publish books as solely electronic editions, completely foregoing the cost of manufacturing and distribution, with the added benefit of instant availability to millions of readers.
Textbook publishers will be able to sell tablets with interactive textbooks directly to schools with their content already pre-loaded in a secure and traceable manner.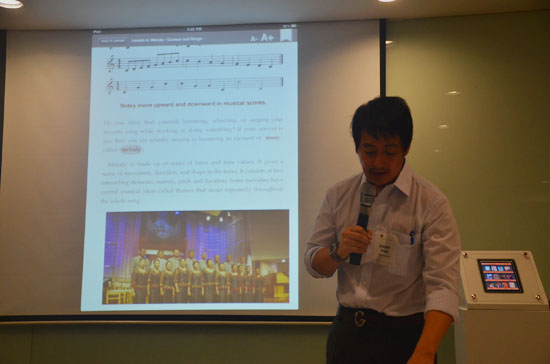 Vibe is the most convenient gateway for Filipino consumers to buy reading materials. Even without credit cards, readers can purchase books with their mobile load or use widely-available payment networks such as Smart Money, Globe Gcash and Paypal. Vibe offers a consumer -friendly scheme with books available for as little as 5 pesos.
Visit vibebookstore.com to know more about Vibe or send an email at [email protected]
Hiring
Vibe is also hiring Platform Development Engineer and a software development engineer. Email resume to [email protected]