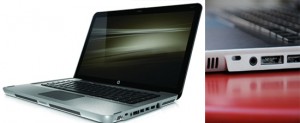 The age of the USB 3.0 for consumers is here, beginning with HP's new Envy 15 laptop. The USB 3.0 is the next generation of USBs and is said to offer 10 times faster data transfer rates, allowing notebooks and netbooks to communicate with external defices at a faster rate. According to USB representatives, a USB 3.0 flash drive will only take 3.3 seconds to transfer a 1GB file, as compared to 33 seconds by a USB 2.0 device. I don't know what people do that makes them unable to wait 27 seconds longer, but okay.
In any case, USB 3.0 technology used to be all talk, until HP unveiled the Envy 15 – the first USB 3.0-enabled consumer device. It's now available at the HP Direct online store along with the new ATI Mobility Radeon HD 5830 Graphics. Take note that while HP is the first, it certainly is not the only company to have a new USB-3.0-enabled laptop line. Asus intends to have USB 3.0 slots in their N61Jq laptops, and Fujitsu's FMV-Biblo/G70 laptops are not falling far behind. Looks like USB 3.0 will soon be the norm by the end of the year or early next year.
Oh, one more thing about the USB 3.0 – it's backwards-compatible, meaning you don't have to throw out your old-fashioned USB 2.0 external hard drive to make room for a new one.