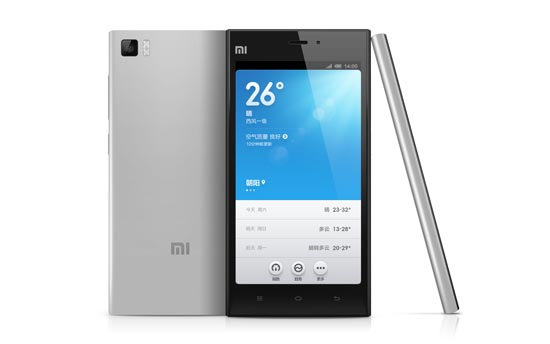 "We're excited to launch Mi 3 in the Philippines, our third market in Southeast Asia after Singapore and Malaysia," said Hugo Barra, VP of Xiaomi Global. I was just as excited when I got my hands on a review unit . It is not often I am excited over a new phone especially if the features are not what I need.
Disclosure: A review unit is returned after two weeks.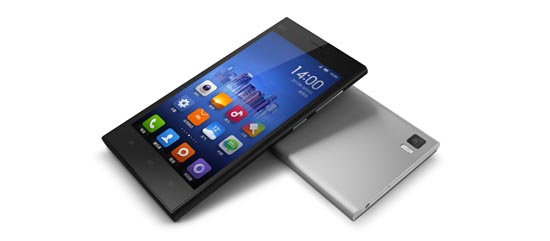 So how was the Mi 3?
The good:
After two weeks of use, I am listing some of my favorite features of this affordable yet powerful and sleek phone. Take note that my favorites tend to be girly so bear with me.
1. Elegant
I like its slim and sleek classy look.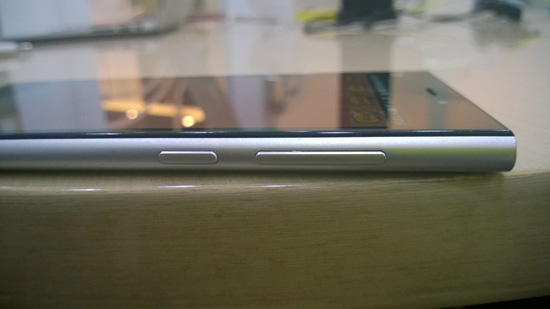 Mi 3 is 8.1mm thin, 145 grams light, and houses an aluminum-magnesium alloy frame, coated with 3 layers of thermal graphite.
It looks and feels like an expensive phone  but it costs only 10,599 pesos.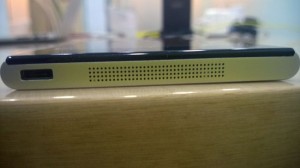 2. First time to use this Android-based platform — MIUI. It is a live operating system constantly improving with weekly software updates. MIUI is incredibly intuitive while at the same time offers power users a high degree of customization. MIUI is such a gorgeous UI with plenty of features.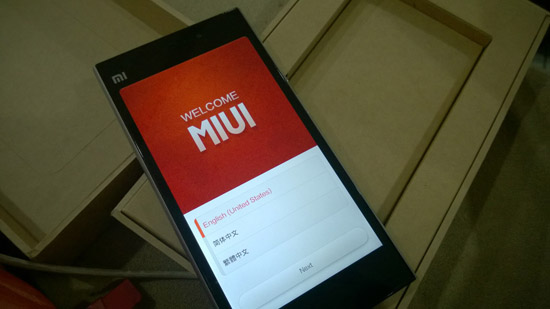 3. Powerful specs – Believe me when I say it is super fast. Even if the phone is not LTE, speed is still fast at HSDPA+.
The Xiaomi Mi 3 comes with 16GB of internal storage, with around 13.22GB accessible by the user. It runs Android 4.4 KitKat with the iconic MIUI (version 5) on top.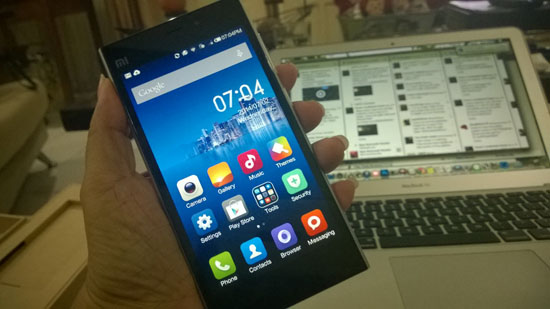 Key specifications:

– 5-inch Full HD 1080p IPS LCD
– Quad-core 2.3GHz Qualcomm Snapdragon 800 8274AB
– f2.2 13-megapixel rear camera with dual-LED flash
– HSPA+ up to 42Mbps
– 3050 mAh internal battery
4. Themes are so pretty
You will find dozen of themes even country ones like the Philippines or Paris. The phone supports themes "out of the box, so you can easily customise the look by downloading one of the many themes from the MIUI theme store." These are my favorite themes : Cat & Windy yet Cozy. The Cat theme is just too cute for cat lovers like me.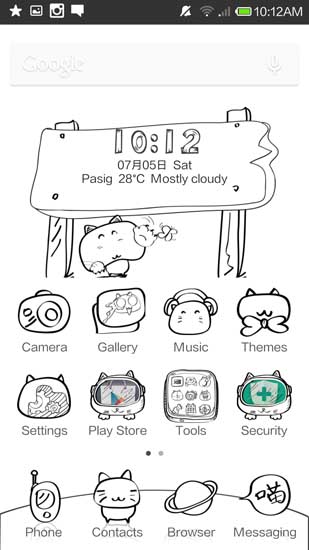 and the Windy yet cozy theme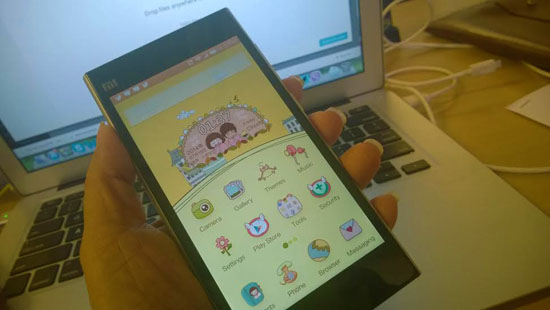 5. Long battery life
The  Mi 3 is powered by a 3050mAh battery, and gave me an average use of 9 to 10 hours with a combined usage of Bluetooth, WiFI and HSDPA+.
6.  The 13-megapixel rear camera with f/2.2 aperture and dual-LED flash as well as a 2-megapixel front camera. It took decent photos especially of a moving cat.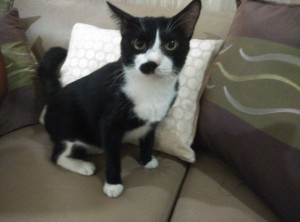 Click to enlarge images
The not so good
Despite the elegant and powerful features, there is some downside that can be solved with a workaround or just living with its limitation.
1. It does not offer LTE capability.
The Mi 3 is a great alternative if your needs are only 3G . Even without the 4G LTE, it is still fast and I dare say one of the best smartphones with such an affordable prize.
2. Old fashioned SIM Card slot
I was surprised to see an old-fashioned SIM card slot . I used an adapter so I could use the nano-sim from my iPhone. Unfortunately, the adapter was not a good fit . I could not take it off and I poked it way too much, that it left a mark. Sad.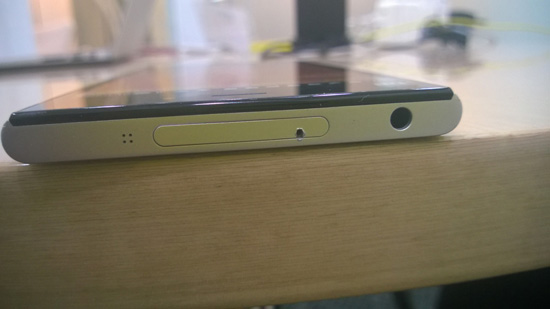 3. No microSD card slot
The Mi 3 offers 16GB of internal storage  with around 13.22GB accessible by the user for their photos and other files. It is pretty much like the iPhone. I just got used to my iPhone by downloading photos to free up space.
Well what do you think? I really like the Mi3 . This is one "Android smartphone that delivers high-end performance at a mid-range price". With its elegant and powerful features, the 10,599 pesos is good buy.
How to get Xiaomi Mi 3
1. Purchase through  their selling partner Lazada at a price of 10,599 pesos. The popular online marketplace offers:- four methods of payment: Cash on delivery, credit and debit cards (Visa/MasterCard), MegaLink and PayPal.
– delivery in 1-3 working days for Metro Manila and 3-10 working days for provincial orders
– customer support for order fulfilment and delivery at (02) 795 8900 (8am to 9pm weekdays and 9am to 6pm on weekends and public holidays)
2. Globe Telecom offers Xiaomi's Mi 3 with prepaid data bundle offer.
Starting July 16, customers purchasing Mi 3 via www.mi.com/ph will get a free Globe Prepaid SIM and free 50MB of mobile data valid for 30 days. To avail of the free mobile data, customers can text FREE1MPS99 to 8888 after SIM activation.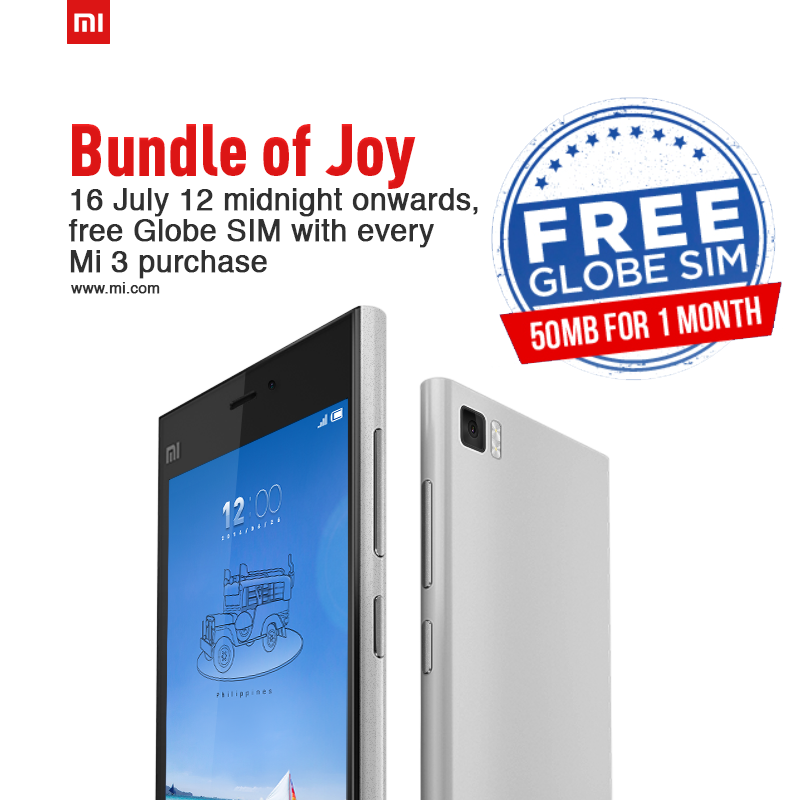 Xiaomi will also offer world-class service and support including the following:

– 7 service centers across the Philippines : Here is the list of Xiaomi Philippines After Sales Service
– 53 convenient drop-off locations for those not near a service center
– dedicated customer support hotline available 9am-6pm daily, 7 days a week

Visit Mi Philippines Facebook page for more information.