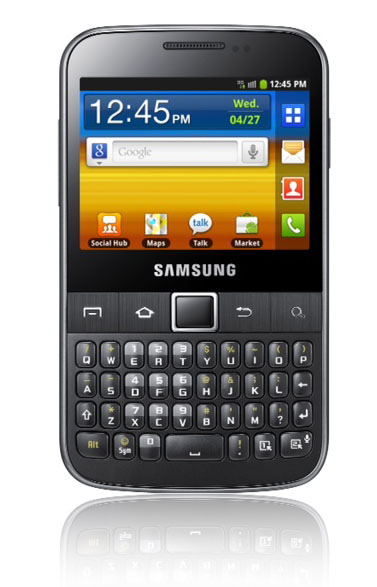 The new Samsung Galaxy Y Pro Smartphone is sleek device that will surely be in many stockings this Christmas. Designed for busy career people who need to get on top of their emails and their social life, the Galaxy Y Pro is one multitasking partner that you shouldn't be without.
The device is equipped with the "Think Free" Office Document Editor, allowing you to view and edit MS Word, Excel and PowerPoint documents on-the-move. It also features Samsung?s integrated Social Hub Premium, which brings together all of your email, SNS and IM accounts to a single page, giving you instant access to your communications. Check Twitter feeds and Facebook updates, answer emails from your boss and text friends all from your central contact list.
Switching from task to task is easy with the device's combination of a touch-screen and QWERTY keyboard. You can react quickly on the touch screen's intuitive fingertip control, and spend just a few seconds typing out your response on the ergonomic keyboard.
The Galaxy Y Pro is powered by the Android™ 2.3 "Gingerbread" platform, giving you access to over 150,000 high-quality apps and services from Android Market™. This means that you can customize your GALAXY Y Pro with the applications to suit your smart life. Download the latest games to keep you entertained on your commute, use maps and location-based services to get you to your meetings in good time and manage your news feeds to be better informed than the competition.
Get the Samsung Galaxy Y Pro at a dealer near you! Retails for P9,900.