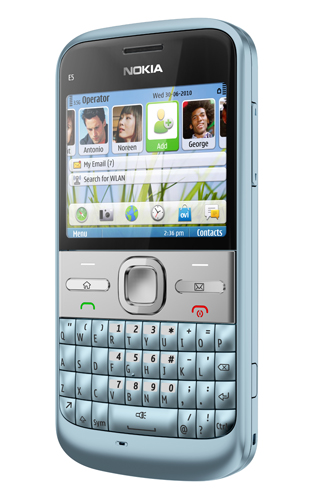 Remember the snazzy-looking Nokia E5 that was announced back in April? It's finally in the Philippines for a SRP of PhP 14,950. For those who aren't familiar with this device, the Nokia E5 is designed to meet social networking needs and the professional needs of the busy, hardworking urbanite. It's equipped with a full QWERTY keyboard with comprehensive push email services for your corporate (Microsoft Mail for Exchange and IBM Lotus Notes Traveller) and consumer (Ovi Mail, Yahoo! Mail, Gmail and Windows Live Hotmail) email accounts. It also supports consumer IM (Yahoo Messenger, GTalk and Nokia Ovi Chat) as well as corporate IM (Microsoft Office Communicator). You can browse both the internet and the intranet and read and edit Microsoft documents.
Aside from these features, the E5 comes with Ovi Maps to help you find your way in the world and Ovi Store so you can shop for the latest free apps to boost your productivity and games to pass the time. Finally, the E5 also has a 5 megapixel camera and promises fast internet connection of 3.5G and WLAN. Comes in carbon black and chalk white and is available at all Nokia Stores and authorized retailers nationwide.
Comparing Nokia E5 and Nokia E72
Nokia E5 is cheaper (by about 5000 pesos)
Nokia E5 comes with 2GB and Nokia E72 comes with 4GB memory card.
E5 comes in only 2 colors (Black and White) and E72 has 5 (Black, Grey, Brown, White, Amethyst).
E5 has a 5-way Navi Key and E72 has the option of using the Navi Key as a scroll pad or a finger powered optical mouse.
E72 has a more premium appearance because it uses more metal covers, and E5 has a only the metal back cover.
E5 keypad may be perceived as more ergonomic because the keys are bigger