Have you upgraded your BlackBerry® PlayBook™ to OS 2.0?  The other good news is there are many apps to add such as  Angry Birds, Cut the Rope, Plants vs Zombies, Ashpalt 6 Adrenaline HD and Modern Combat 2 Black Pegasus HD and this time around, one can also get apps developed by our talented Filipino app developers.
Yes, Filipino developers are making their mark in BlackBerry® App World™ and have created the following apps with the Philippines in mind:
"Kamusta ang traffic sa tuwid na daan?"

Navigate your way through Metro Manila traffic with the MMDA for BlackBerry app.  Plan your trip by checking the traffic situation in areas like EDSA, C5, SLEX, Roxas Blvd, Ortigas, Commonwealth, Marcos Highway, Katipunan, Espana, & Quezon Ave. MMDA FAQs and a Directory are also included for your guidance.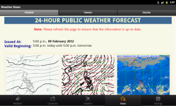 Planning a weekend get-away?  Be ready for any weather and pack accordingly, with this app that shows updates on Philippine weather conditions, forecasts and news, gathered from the DOST-PAGASA and other media sources.   The satellite images cover not just the Philippines, but also Taiwan and neighboring South East Asian countries.  Images can be animated and supports panning, zooming and pinch-to-zoom.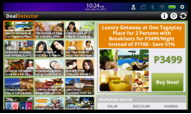 Because Pinoys love a bargain, BlackBerry PlayBook users can now avail of the best offers and deals in town with Deal Detector!

With Deal Detector, you can see all the best deals in town, check how far away you are from them, get notified everytime a new deal is available, and browse through local deals even without internet connection.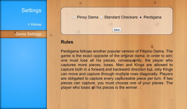 A traditional game played by our ancestors is now brought to life on the BlackBerry PlayBook!  The app showcases two popular forms of Filipino Dama – Dama and Perdigana, as well as the standard English Draughts, also known as Checkers.   Dama features an 8×8 board that simulates an actual board game. Place it on a surface and feel like you're playing on an actual board!

What's more, these apps developed by our kababayans are free for download from App World.