Just before noon today, I received an email from Globe Telecoms.
The email says:
You are so close to owning the new iPhone 4 from Globe!

You are privileged to have exclusive access to the reservation page ahead of all others because you pre-registered your interest.

Stocks are limited worldwide so hurry! Click on the image below and reserve your unit now to get a chance to claim your iPhone 4 on September 26, 2010.
I clicked the image and there are options to choose
What type of subscription are you interested in?
iPhone 4 Offers for Globe Consumer:
1.Renewal of Existing Globe Postpaid Plan
2. New Postpaid Plan
3. New Prepaid Kit
4. iPhone 4 Offers for Globe Business subscribers
The pricing is as follows:
16GB
From Php 37,499
FREE at Plan 3799
32GB
From Php 43,699
FREE at Plan 5000
Renewal of the Globe existing plan
There are more options and the pricing of the iphone depends on the plan. It is free in the Platinum plan.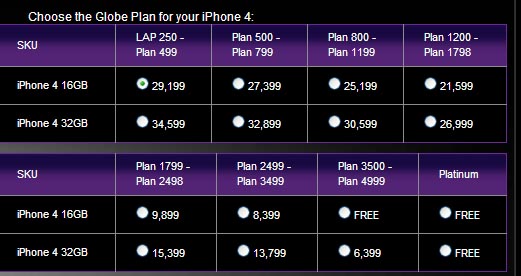 As postpaid, you can choose your loyalty rewards to pay for iphone 4.
New Postpaid Plan
16GB BLACK FREE at Plan 3799
32GB BLACK FREE at Plan 5000
Then you can either choose Globe postpaid plans that suits your lifestyle like the My Superplan or My Fully Loaded Plan.
New Prepaid Plan
16GB BLACK at Php 37,499
32GB BLACK at Php 43, 699
Prepaid Kit includes:
Prepaid Kit
Free 1 month Super Surf
iPhone 4 Offers for Globe Business subscribers
16GB
PHP 37,499 with Prepaid Kit
Included in Business Elite
32GB
PHP 43,699 with Prepaid Kit
Only PHP 2,799 with Business Elite
After choosing your options, you will receive a confirmation email.
Thank you for your interest in the iPhone 4.

We have received your reservation and will process it shortly.

A Globe representative will get in touch with you by phone or email to confirm your reservation.