This is a long entry and I tried to make it as brief as possible but please take time to read till the end so this may never happen again.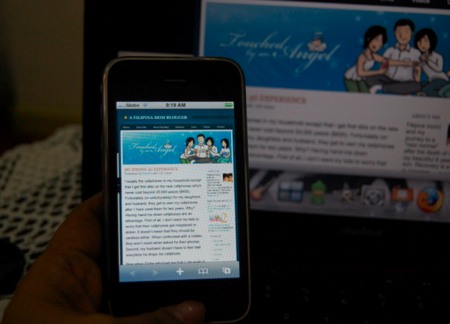 As a rule, I blog only after I exhausted every means to resolve an issue or resolve it amicably with the person concerned. Wearing the hat of a small business owner with an online business, I'm going to be unhappy if my customer blogged about my services without having gone through the help desk or given me a chance to resolve the issue in a timely manner. It is one reason I am patient with customer service because I know how it feels to be on the other end.
But Globe did it again. The excessive gprs charges that happened last January is back again which I will elaborate more. Yugatech is also a victim of these excessive charges and probably a lot more victims based on the 110 comments in his entry (read 110 comments here).
Let me give you a background of my Globe billing problems but before that here is a background about me:
1. I don't rely on globe 3g as my internet connection. I am subscribed to 3 major ISPS: Globe Broadband (2mbps), PLDT Mydsl (1 mbps), Smart Bro and another mobile internet connection from Smart 3g. That makes me connected to 4 sources and a Globe Tattoo dongle. (Read my review of the internet providers)
2. Globe subscriber since April 1999 using the same phone number.
3. I own a macbook, HP mini and desktop other than an iPhone and another 3g enabled phone for my smart phone number
4. As a blogger and new media publisher, I don't have time to play with my iPhone except check emails and the occasional orders of my online business when I am out of the house.
5. Usually I am at my home 3 times a week. Usage of iphone is when I don't bring my laptop.
6. I know how to use my iPhone so it does not trigger my email program and to edit my APN when I don't need a 3g connection.
7. This is not an attack to my friends who work at Globe. You are wonderful and doing a great job. You have tried to help me resolve my charges but the system flaw is beyond your control. I can't keep asking you to help me out. What about the others who are having billing problems and think that 50% being waived is a good compromise. NOT.
8. I appreciate the 2 awards given to me by Globe in 2007 and 2009 but it does not mean I can't complain. I am a customer and I have rights.
My Globe 3g nightmare billing problems
1. I got my iPhone 3g during the first week of September 2008 and my gprs usage were all below 1,000 pesos.
2. My March and April 2009 bill amounted to 14,064.35 pesos of which 9,439.76 came from gprs charges.
3. I contested the amount of 9439.76 pesos and paid for the rest of the bill.
4. I requested extraction of usage and was sent the January 11- February 10, 2009 extraction for the said billing period. See the extraction below and my notes.
I removed my cellphone number in this excel file
Globe GPRS Usage from my iPhone
You will note on January 11, I connected at 13:00 and was charged 870 minutes (14.5 hours) costing 258.68 pesos. My next connection is 1 1/2 hours later at 14:27.07 with a usage of 45 minutes which cost 13.38
This is just one example . How could I possibly be using 14.5 hours internet in a span of 1 hour and 27 minutes?
The same goes on for the improbable usage of gprs at the times allocated.
5. Globe offered to rebate 50% but that would mean paying 4,500 pesos. I refused the offer and suggested that I pay only 1,000 pesos based on my highest usage for the past 6 months. Globe agreed.
6. My GPRS bill seemed normal during the next few months
April 2009- 201.51
May 2009- 512.99
June 2009- 1012.42
July 2009- 615.48
August 2009- 605.92
September 2009-777.42
October 2009- 3,786.87 – upgraded to iphone plan 2199
November 2009-3,250.63 – only 648.16 charged
December 2009- 3,808.10 – currently contesting
7. By September 2009, I upgraded to the iPhone Plan 2199 plus DUO plan since I noticed that my total bill including text and calls amounted to 2,500 pesos a month.
This is when the Globe 3G Billing nightmare recurred. I thought I could save more with the upgrade but goodness gracious, take a look, I ended up being billed 4 times my average use.
8. Let's just analyze my unpaid gprs charges of 3,808.10 pesos for the current billing period.
What does that mean?
It means I used my iPhone 3Gs for at least 7 to 8 hours a day, on the average. I find it impossible. Why?
8.1. Battery life for iPhone 3Gs lasts for 4 to 5 hours.

8.2. Even if I used a charger to make battery life last longer, it is just damn stupid. I'd rather use my laptop. I am 52 years old and even if I am young at heart, my eyesight cannot take prolonged use of a small electronic gadget.

8.3. I happen to have a life. I don't stay glued to my iphone for 8 hours. DUH!
9. My story is not done yet. I told Globe that it is impossible for me to have those 3g charges and if I can have extraction of usage. I was told that it is not possible to give me an extraction, Exact words use- " for the internet usage in your latest bill is not a regular service being offered" and instead, the customer service rep (CSR) sent me an email that totally insults my intelligence.
Good day. Thank you for bringing this to our attention.
It might help to know that when you see the icon which appears on the upper left corner of your Iphone, this indicates that there is an internet activity. In addition, you also get charged when accessing applications such as stocks, weather, Safari, Maps and the like. Also, please know that the IPhone automatically shifts from WiFi connection to another stronger network/signal which is available in the area. Moreover if your email accounts are integrated, this is also a possible cause for browsing charges. We suggest that you remove your email accounts to avoid incurring high charges.

Our default charging rate is volume – based (KB). But since you have registered to the alternative option our records show you were charged under the TIME-based scheme amounting to PHP 2747.47 in your latest bill. Please note that we have not found any charging problems nor system errors during the concerned period; be assured then that your account has been charged for usage that was traced to have originated from your sim card. We also wish to advise extraction of the logs for the internet usage in your latest bill is not a regular service being offered. We do however suggest the following additional tips to further avoid browsing charges:

1. Charging begins as soon as you open the Safari, YouTube, Stocks, Weather or other web-based applications. Remember that replaying a video means another charged transaction.
2. Clicking on the menu button ends your Internet connection to Safari, YouTube, Stocks, Weather, Instant Messenger or other web-based applications.
3. When iPhone is not in use , make sure to lock the iPhone by short pressing the sleep/wake button (keypad locking) so as to avoid unwanted keypad presses that may trigger browsing and call charges.
4. When setting up e-mail, best to set this to Manual vs. Push. If you set it on Push, it will constantly connect to the Internet causing unnecessary charging and even drain your battery's life. Settings > Fetch New Data > Push (On/Off) & Fetch (Manually). For iPhone OS 3.1: Settings > Mail, Contacts, Calendars > Fetch New Data > Push (off) & Fetch (Manually)
5. Email accounts (if there's any) should be set to OFF when not in use. Settings > Mail, Contacts, Calendars > Accounts (set all existing accounts to OFF).
6. Weather, Stocks, App Store and iTunes are location dependent applications. These applications also connect to the internet for updates. To turn it off: Settings > General > Location Services > OFF
7. Apps behave differently from one another, some require connection to the internet for it to work, some may need to connect to the server from time-to-time for upgrades or updates. In both cases, when you use Globe's network, you will be charged based on your internet subscription with Globe. To turn off notification: Settings > Notifications > OFF
8. While browsing, iPhone automatically shifts to the stronger connection. If you are currently on free WiFi and the connection fluctuates, iPhone automatically shifts to GPRS, EDGE or HSDPA connection and charges start to apply.
9. When not using your iPhone's data services, you may edit the APN (by removing a letter or misspelling) at Settings > General >Network > Cellular Data Network. When you want to access the Internet again, remember to have the correct APN inputted (for Globe Postpaid: internet.globe.com.ph | for Globe Prepaid: http.globe.com.ph)
10. Any software update and change in SIM card will restore your iPhone settings (Mail, Contacts, Calendar and Network) to default and as a result, certain applications and system updates may run again and incur charges.

You may also visit : http://site.globe.com.ph/web/guest/iphone3g/updates_and_tips?sid=51miicj8b4lc81247118103386 for more information/updates regarding the iPhone.

We hope the information shared herein helps you manage your iPhone usage. Do email us should you have further clarifications.
I have to remove my email account? Why would I do that? What's the use of an iPhone plan if I can't check my email. Their suggestions don't make sense.
10. I felt that the CSR blamed my iPhone and me, the user for the high billing. Imagine, the nerve. Of course, I contested the charge and since I stupidly didn't check my October 2009 bill, I am requesting for a refund.
11. Even if they waive the fees again, the problem may recurr again. I need assurances that it won't happen again.
So I can whine and bitch in my blog but what use will that do?
What steps will I take?
I have 3 courses of action.
1. Exercise my consumer rights and file a complaint at the National Telecommunications Commission (NTC). Here is the complaint form.
I will only pay for actual usage but without the extraction excel file, that is impossible. Based on Republic Act No. 7925 ARTICLE VII. Sec. 20. Rights of End-Users. – The user telecommunications service shall have the following basic rights:
c) Regular, timely and accurate billing, courteous and efficient service a quality business offices and company personnel; and
There is a complaint form that you can download at the NTC site but it seems down right now.
2. Collate all other iPhone users who have similar billing problems. Please fill up the form below. Rest assured I will not use your information without your written permission.
3. Oh. I will not post my next step because I will just do it.
Enough is enough on flawed billing. It is my right to have accurate billing. I haven't even talked about the crappy service, have I? (that's another blog post).
It is time that Globe fix their problems and stop blaming the iPhone user or the iPhone. Apple should know about this too.
Care to share your iPhone 3g billing nightmares?
Globe 3g Iphone users with billing problems, be counted because even if charges are waived, they can reappear again just like mine.
Please fill up the form if you have billing issues with Globe

and here are related posts on Globe 3g billing horror stories
Globe Philippines Blames iPhone for Billing Problem
I'm ready to quit my iPhone by Yugatech
Is Globe having problems tracking iphone data usage properly?
Billing concern with globe and iPhone-Philmug forum
Globe Insane Internet Charges– Philmug Internet forum
Hindi ako maktulog by Chuvaness
Enlighten me by Chuvaness where her bill is 30 k
Does Globe charge for the use of wifi in the Philippines?
IPHONE3G + GLOBE users watch out!