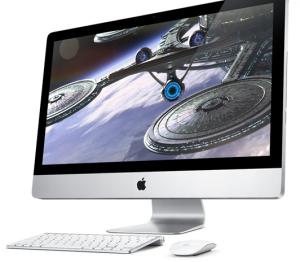 Steve Jobs wants you to spend your hard-earned money on the shiny new machines that were just announced last night. The all new Apple iMac line will set you back by at least P50,000+, but they're equipped with all sorts of powerful stuff like Intel Core 2 Duo processors starting at 3.06 GHz, a Core i5, or an i7 quad-core processor. They also have LED-backlit display with a 16:9 aspect ratio, perfect for watching high-def movies, photo editing, and video editing. Other specs include 4GB of 1066 MHz DDR3 memory, capacity for up to 16GB storage across 4 SO-DIMM slot, a built-in iSight video cam, mic, and stereo speakers. There are a total of 4 USB 2.0 ports, one FireWire 800 port, an AirPort Extreme 802.11n WiFi, Bluetooth, and built-in SD card slot. Each new iMac comes with the brand new wireless Magic Mouse, the first mouse with the Multi-Touch technology used on the iPhone, iPod Touch, and the Macbook trackpads.
So if the all-new iMacs sound good to you so far, there are two options available. The 21-inch iMac has a 1920×1080 pixel display, whereas the 27-inch iMac has a HUGE 2560×1440 pixel display. The former has improved graphics with the NVIDIA GeForce 9400M integrated graphics or the ATI Radeon HD 4670 discrete graphics, whereas the latter can be equipped with the ATI Radeon HD 4670 discrete graphics or ATI Radeon HD 4850 discrete graphics. Both of them have IPS technology for consistent colors across a 178-viewing angle.
If the new iMacs have too many bells and whistles for you, there's always the new entry-level Mac Mini. Priced at around $599 in the US, it's got a 2.26 GHz Intel Core 2 Duo processor, 2 GB of DDR3 1066 MHz RAM, a 160GB HD, 5 USB 2.0 ports, FireWire 800, Nvidia GeForce 9400M integrated graphics card, and a SuperDrive. For $799 you can get a better Mac mini with a 2.53 GHz dual core processor, 4 GB of RAM, and a 320 GB HD. Finally, there's a $999 mini built around the Mac OS X Snow Leopard Server. It's also got two 500 GB HDs.
Which one do you want for Christmas?