Tags
Related Posts
Share This
Testing the S Pen & the dot-circle-box feature of the Samsung Note 3
Add a plus one if you want to recommend this post to your network.
I got to see the livestream video of the Samsung Note 3 at 1:00 AM but it was only today I got to play with the unit itself along with the other bloggers.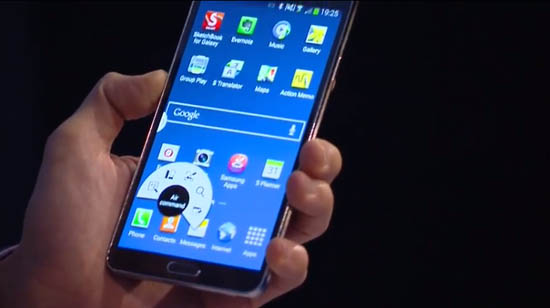 What has been confirmed from the launch are the following specs:
Display size: 5.7 inch full HD Amoled Screen. -168g

Processor:2.3 GH quadcore for LTE, and 1.9 Octacore for 3G version

Battery life: 3200mAh battery – 40 percent more video playback time. Nearly 4 more hours.

Camera, photos, video: 13 MP rear camera/ Front camera 1.9MP / 1080 p videos with 60 fps. Ultra high definition or 4k video as well. High CRI LED flash and smart stabilizer.

Memory: 3GB ram

Connectivity: 3G and LTE

Operating System: Android 4.3

Audio: UHQA. 24bit 192 kHz

Security: KNOX (preloaded on Note 3). Provides best in class security by operating security, privacy and safety from hacking, malware, lost and theft.

S-Pen: All new S-Pen works seamlessly with a bigger screen and unlocks the power of all functionality of the Note 3.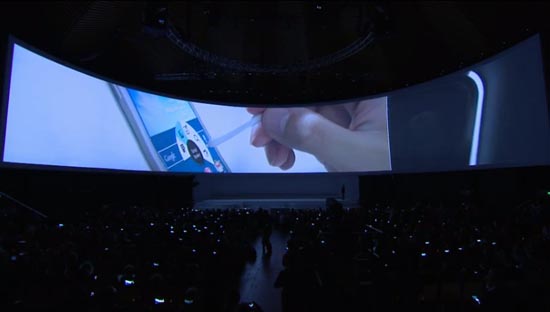 Dot, circle, box.
What is so awesome about this Samsung Note 3 is the Dot, circle, box. "Dot-Circle-Box –simple and clear and all you need to remember to understand what the Note 3 can do for you," explains Samsung's marketing executive David Park.
.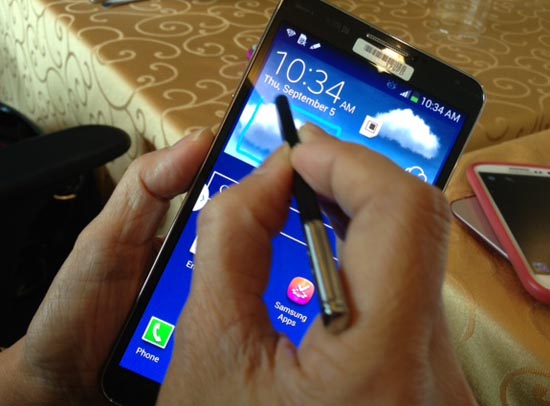 Dot – is the dot on the screen when you hover the S pen . When you see the dot, the air-command shows up.
Air command opens 5 features which can be accessed anywhere on the screen when you see the dot as you hover your pen . You just need to hover till you see the dot, click the S Pen on the side then the Air pops up showing : Action memo, scrapbooker, screen writer, s-finder, or pen window.
Watch my friend demonstrate some of the nifty features of the S Pen as it opens the dot-circle-box
Screen Write

Circle – With the circle, you can capture and organize content in one place.
"It's like a scrapbook, and that's what we call it. If I find content it's as easy as drawing a circle. Launch a browser to a page you are interested in, and you bring up air command, then click on scrapbook, all you do is draw a circle around the content you want, then put it in a category or list.

"In the scrapbook, the webpage is saved. Even video can be put in the scrapbook. You can also go back to the source the content was found by clicking a source link."
In the vine video below, Jane curated videos and webpages on the Samsung Note 3. You can even create your own category. This is really great when you need to organize a topic. Just collects whatever topic you want and organize it via categories .
Scrapbooker feature is so cool for curation.
Box – The box allows users to multi-task and have the same app open in two windows.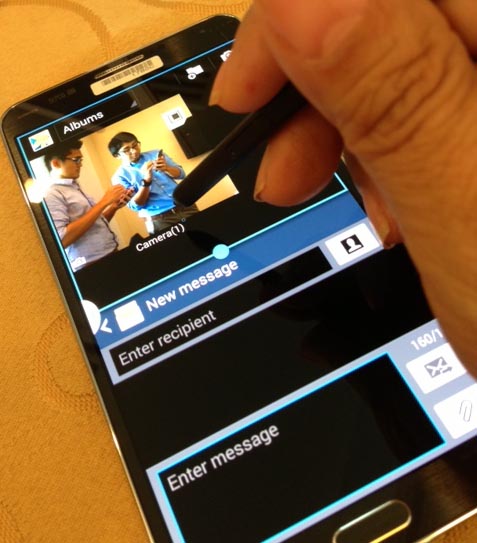 With a Pen window, you can draw a box on the screen to open frequently used applications. You decide the size of the screen by drawing on the window . Watch Jane demonstrate the Pen Window.
I can see the functionality of the Pen Window when you're busy on the phone and need to quickly access another application.
Group Play
Group Play is so much improved that you can link up to five devices into a single, large format screen.
Watch us dabble with the Group Play video share as we convert a video into a large format video screen.
Here we set up the join the group play.
Then we placed five Samsung Note 3 handsets alongside each other . See how it converted to a Large format display

That means five of your friends need the Samsung Note 3 to set up a Group Play into a single video
When it comes to the screen feature, the seven of us dabbled with the a photo and drew on the photo.
To be updated.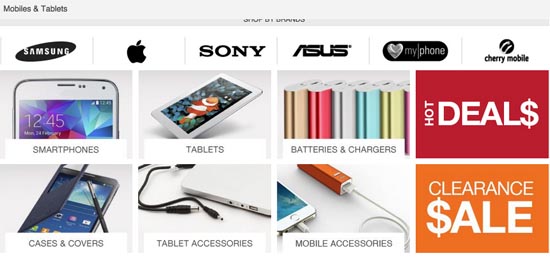 Shop for your mobile and tablet needs at Lazada
Read the
Disclosure and Privacy Policy
of this blog