I didn't realize that it's been two years since I last checked the speed of my three internet service providers. One lesson learned from my past reviews is to make sure the modem is in working condition. I had been complaining in early 2007 that my PLDT mydsl connection had dropped connections and it was only a year after , that I found out that the problem was the modem. Since May 2008, I have not encountered a single problem with my PLDT mydsl connection. I decided to do another speed test to be consistent with the past reviews. Take note, I am a paying subscriber located in Pasig City near the Quezon City area. The speed test was done at night , taken in the same hour , when internet connection often slows down. Speed tests results were obtained from speedtest.net and repeated three times to make sure results were consistent. The results are quite interesting. I wanted to see who was delivering promised speed results or who fell below it. Just take a look.
1. Smart Bro – 999 pesos for a 512 kpbs connection- installed March 2, 2007
Smart Bro wireless broadband serves well as a backup internet connection for my daughter, Lauren when our Globe Broadband connection fails at night. We have had no trouble with Smart Bro since 2008. With its speed reaching 43% of the promised speed, it can still deliver when the regular ISP is not working. The Smart Bro is not often used because the speed is just too slow for my daughter's needs.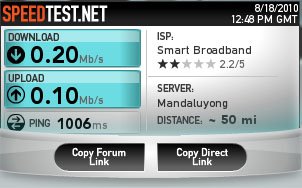 Download: 220 kbps
Upload: 100 kbps
Promised speed: 220kbps reaches 43%
2. Globelines Broadband Budget Bundles – 2 MBPS with landline. at 1,995 pesos, installed March, 2007
The Globelines broadband is attached to my daughter's computer and this is where we get WIFI connection for the whole house. I notice that the connection slows down at night the past months but the results were not bad at all. The speed test results hits 72% of promised speed.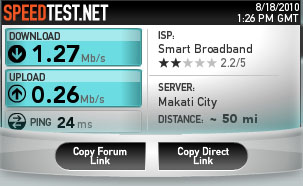 Download: 1.43Mb/s
Upload: 350 kbps
Promised speed: 1.43 MBps at 72% of promised speed (2.0 Mb/s)
Continue reading "Speed test results of PLDT myDSL, Smart bro, Globelines and Globe Tatoo"