Spam is annoying and time consuming. In my gmail, there is a way to block spam through a special folder that I never get to see. For mobile phones, it is another story. I see it in my inbox. In iPhone, I can easily block the sender but it does not stop future spammers from contacting me.
What kind of spam SMS do you receive from your telecom? I have two postpaid accounts from two telecoms: Globe and Smart. Let me share to you the type of spam messages I have received for the month of December. Mind you, I received spam in the past 7 months since I changed to a new number. I admit that I may have inadvertently given my number to marketing people in my old 14 year old number. Receiving spam sms in my new number is unforgivable especially upon receiving a spam just a day after.
The type of spammers sending these text messages come mostly from banks who provide loans and real estate agents. I am wondering how these spammers got my number and I also wonder why the are helpless against these spammers. It amazes me why I don't receive spam sms from the other telecom.
This spam should stop. Aren't they aware that the Philippines has a Data Privacy law?
Here are the spam sms for the month of December 2013.
1. Standard Chartered Bank.
2. Cheapest condo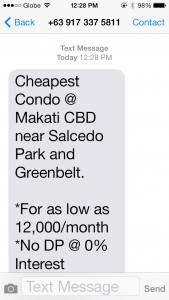 3. Megaworld
4. Loan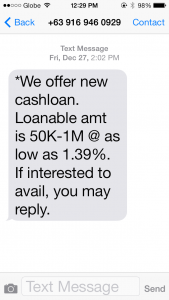 5. Vistas Residences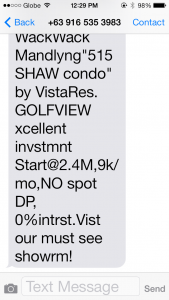 6. Preselling of a condo in Makati
7. Cash Loan
8. Pre-sell Makati Condo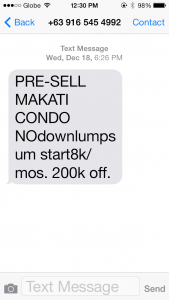 9. Ayala Land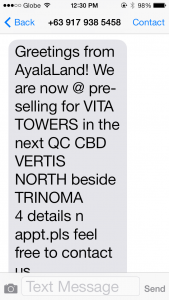 10. Yet another cash loan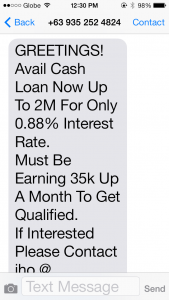 11. Still another cash loan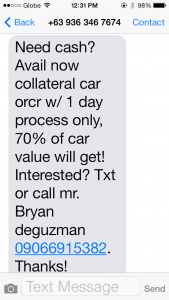 12. Maybank

13. Yes, another cash loan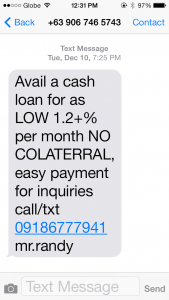 14. Makati Finest Condo
15. Filinvest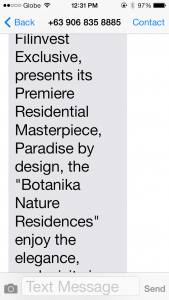 16. Ah, cash loans.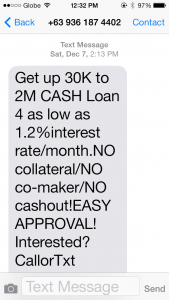 17. Pre-sell condo in Makati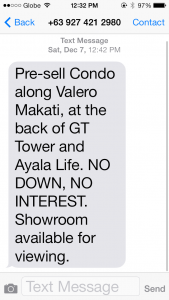 18. My first gadget spam ( This might be a supplier where I bought accessories but this spam does not identify themselves. So I consider this spam)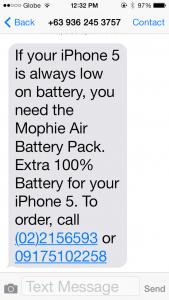 19. Email and tech blasting at affordable prices? (they should be investigated)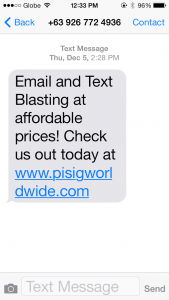 20. Condo at the heart of Makati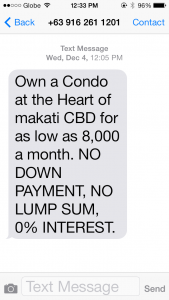 21. Megaworld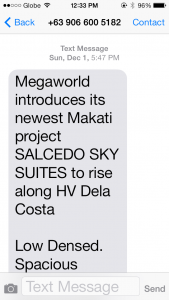 The good news is I only received 21 spam sms. I could have been worse like receiving a spam every day. Out of the total 21 spam sms, here is the breakdown: two from Banks (Standard Chartered & Maybank) , seven from loans , five real estate from Makati, five from Filinvest , Ayala Land, Megaworld, Vista Residences and two are from technology. The top SMS spammer is from the real estate category with 10 spam sms followed by the banking/loan category with 9 spam sms.
Do I call out these spammers or my telecom for violating Data Privacy law?