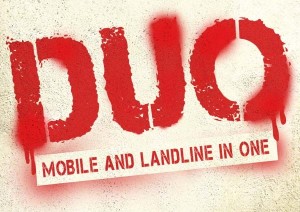 Several months ago, I blogged about the launch of Globe Duo, Globe's new breakthrough service that lets you make landline and mobile phone calls all through one SIM card! The Duo SIM card enables you to make unlimited calls to landlines, unlimited calls to any DUO subscriber, receive landline calls wherever you are, and make the usual mobile calls or texts.
I find it really so useful. Since I was one of the first to avail of the service, my Duo Globe Number is pretty and so easy to memorize. My household or family members can call me anytime especially for emergency matters. If you haven't availed of the Duo Globe, you should get one now.
How does it work?
Globe Duo is surprisingly easy to use. Other phones can accommodate two SIM cards, but Duo is the real two in one. No need to keep a second phone around or get a duo SIM phone, because DUO SIM cards contain both the landline number and the mobile number.
Once you are subscribed to Duo, you will be given your Duo Landline number. Now, your mobile phone and SIM will have two (2) numbers: your current mobile number (i.e. 0917-XXX-XXXX) and your Duo Landline number (i.e. 02-XXX-XXXX).
Upon activation, the following calls are rendered free of charge: DUO to any Landline calls, any Landline to DUO calls, and DUO to DUO calls. Calls made to other mobile numbers are charged regular mobile rates.
No need to enter a prefix or keyword to make landline calls! To call a landline number, simply dial the area code plus the landline number. To call another DUO number just dial the area code and the DUO number of the person you are calling. For any landline to call you a person will just dial the area code and your DUO landline number
How much does it cost?
Post-paid and prepaid subscribers can enjoy the Globe Duo service through affordable plans. Postpaid subscribers pay additional P399 every month of the service, while prepaid subscribers can get Duo for P450 for 30 days, P125 for 5 days or P25 per day of meter-free calling.
I am so happy with the service that I was willing to give a video testimonial of the Globe Duo service.

Here is my video testimonial.