I love the flexibility and freedom of being a stay at home mom who happens to be a blogger that gets to work at home. In fact I call my working space, a Small-office Home-office (SOHO). My cozy home has four workstations with redundant internet connections. My mood of the day determines the location of my work.
See, each of my working space has a purpose. Perhaps I want to blog, work on some papers , websites or just go blog hopping. My favorite spot is the kitchen where I monitor the daily routine and still keep in touch with my family members who are all wired themselves. I don't even need the landline to communicate with friends and relatives anymore.
It is important for me to have reliable and consistent internet connection in and outside the house. As a blogger, I cover events and use social media applications for citizen media coverage. It is for this reason I subscribed to a post-paid Smart Bro which I carry around in my portable modem. I like that Smart has more consistent internet connection in most parts of the country. I used to have the Smart Bro antennae since 2005 but I shifted to the more mobile and affordable Smart Bro last year. Besides I already had my PLDT MyDSL for my broadband needs.
My Bro
There are just so many options today for bloggers like myself who own a Small-office-home-office and a mobile office outside the house.
Starting June 26, PLDT and Smart consolidated all their services under a HOME megabrand called my Bro. The Smart Bro mobile broadband I am subscribed to is now known as my BRO. The best part of all is that my Bro connection is even more affordable at 799 pesos a month or just 26 pesos a day for unlimited broadband use.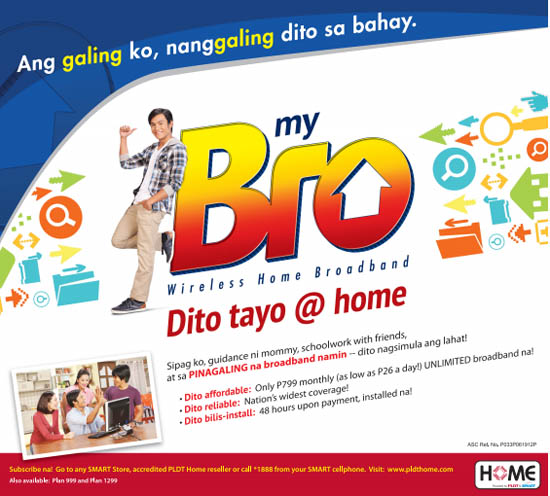 The Smart Bro that most of us know of is the former brand of all the broadband services of Smart which includes Mobile Broadband services of Smart, which are Plug-it, Pocket Wifi, etc. and Fixed Broadband which are Bro Canopy and Wimax.
Even the fixed Wireless variants – Canopy and Wimax – will also carry a new brand name under My Bro.
If you are wondering how my BRO is powered, both my BRO and PLDT myDSL are high speed broadband internet services, that offer basically the same experience. PLDT myDSL utilizes PLDT's telephone lines to deliver internet service, while my BRO utilizes its cellular network.
The new branding of my BRO will have no impact with my current package and I will continue to enjoy my unlimited broadband connection.
How to apply
New subscribers of my BRO connection is available for application at any Smart Stores or PLDT Business Office nationwide, or through any accredited Smart or PLDT sales agents.
One can also learn more about the plans by visiting the any Smart Store, accredited PLDT Home reseller or calling *1888 from your Smart cellphone. Forty eight (48) hours upon payment, installation will be done. It is that fast.
The flexibility of my work as a blogger requires flexibility in my internet connection needs. With the choices offered by my Bro, it will make it easier for consumers to decide which service suits their needs be it fixed or mobile.
Visit www.mybro.com.ph for more. details
Oh and check out their promos from June 26 to 29 only
June 26 – 10 Esprit Watches (3 winners per day)
June 27 – 4 Asus Laptops (1 winner per day)
June 28 – 8 Nokia Cellphones (2 winners per day)