If you have always wanted to try Globe broadband which I have experienced for the last 10 years , you are in luck. Now is the best time to try Globe At Home broadband with a 'no commitment' trial plan for customers to enjoy fast and reliable internet connection without the standard 24-month lock-up period.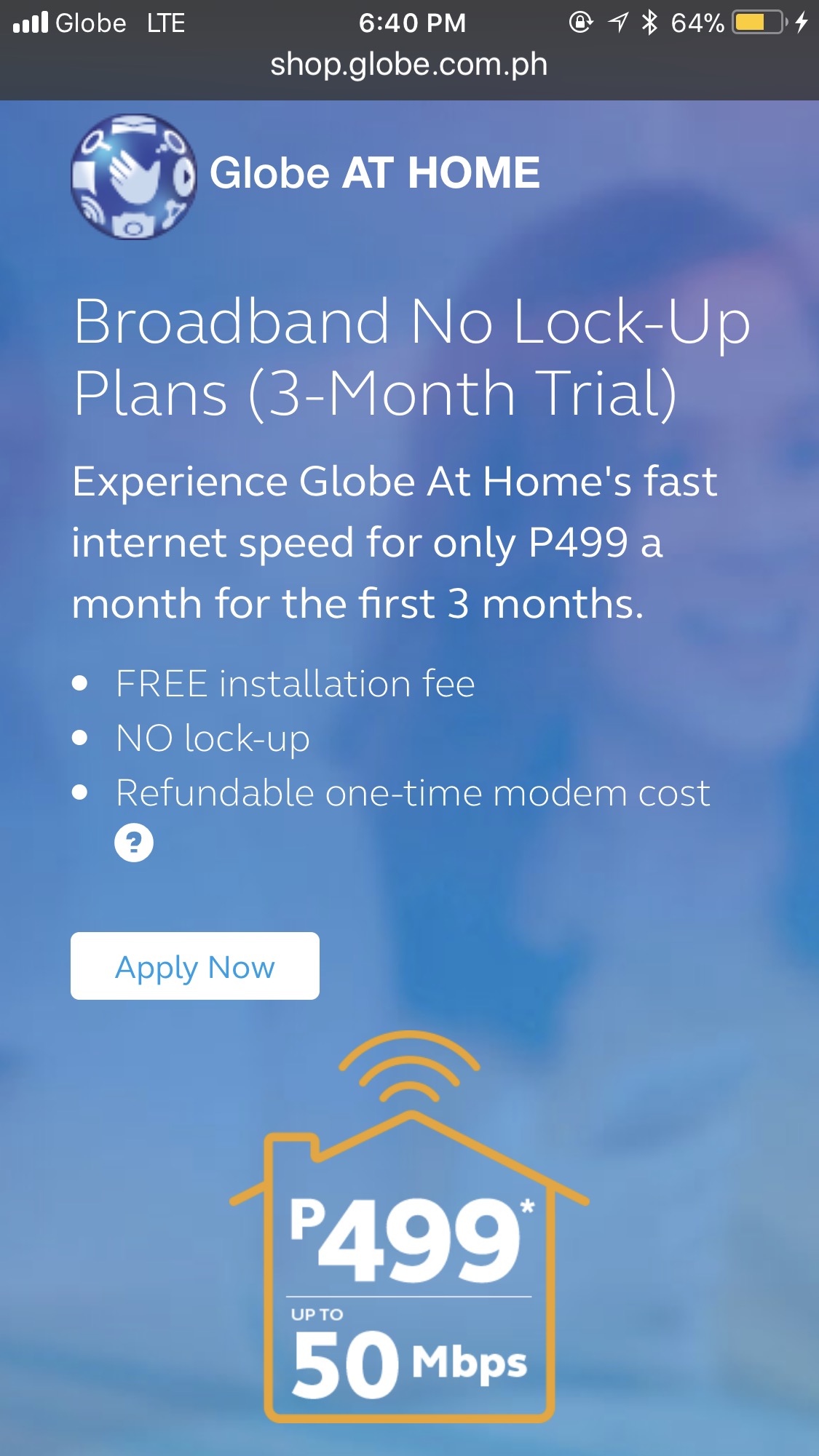 The new trial plans have refundable modem fees and no documents other than one (1) valid ID for processing.  New customers can choose from Globe At Home's Go Big Plans 1299, 1599, or 1899 to enjoy speeds of up to 50 Mbps and up to 600 GB of data allocation for just P499 per month for the first three (3) months.
When I first moved to my new home , I was not sure which telco would work in my area . So I subscribed to PLDT , Smart Bro and Globe. Eventually I cancelled PLDT and Smart Bro when I experienced Globe broadband .
The plans come with free subscriptions to Netflix for award-winning originals, Disney Channel apps for top children's shows and HOOQ for a diverse selection of local and foreign titles.
After the trial period, customers can choose to maintain their initially selected plan or choose another one from the GoBIG plans. Those who avail of Plan 1299 can enjoy speeds of up to 5 Mbps and 400GB of data, while those who avail of Plan 1599 can get speeds of up to 10 Mbps and 500 GB of data. Plan 1899 is also available with speeds of up to 50 Mbps and 600 GB of data.
Those who choose to discontinue their subscription within the first 15 days will get a 100% refund of their modem fee upon the return of devices installed in their home that includes the modem and telephone set.
This offer will be available for DSL plans only and subject to Globe At Home's availability in specific areas. Customers can check availability via the Globe At Home Finder at https://shop.globe.com.ph/broadband.
For more information about Globe At Home's no-commitment trial plan, visit the website at https://shop.globe.com.ph/broadband-no-lock-up-plans.