Good news for Globe prepaid subscribers! Starting tomorrow, July 16, Globe Telecom is rolling out nationwide its biggest offer for its prepaid subscribers that will give users the ultimate unrestricted experience in text messaging, while also providing them access to the internet on their cellphone.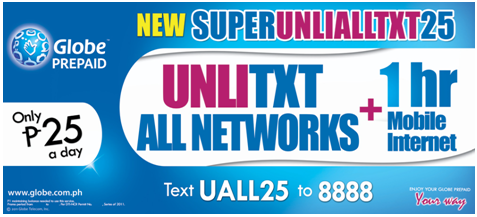 Globe SUPERUNLIALLTXT25 is the premier unlimited text offer, empowering Globe prepaid users to stay connected with their friends subscribed to other networks anytime they want. The offer is available on a daily variant for only P25, while also including one hour of free mobile internet.
With Globe SUPERUNLIALLTXT25 subscribers no longer need an extra phone or SIM because they can now get in touch with all 85 million mobile subscribers nationwide through unlimited text messaging – either from Smart, Sun, Globe, TM, Talk 'n Text or Red Mobile.
Peter Bithos, Globe Senior Advisor for Consumer Business relates how Globe pioneered the introduction of unlimited all-network SMS.  Since March Globe offered, through its TM prepaid brand, unlimited all-network SMS to selected provinces.  Globe is also the first to offer an unlimited text messaging service under their postpaid plan, and now
"SUPERUNLIALLTXT25 continues Globe's innovation, rolling out nationwide and extending the unlimited 'fever' to our Globe prepaid customers who make up majority of our subscriber base with Globe SUPERUNLIALLTXT25".
Mr. Bithos adds that "With this new offer, subscribers get more than what they pay for. Part of the offer is the free one hour mobile browsing for users to enjoy mobile data.
To register to Globe SUPERUNLIALLTXT25, subscribers must text UALL25 and send to 8888. The subscriber must maintain P1 balance to enjoy the service.