Of course I could not resist the chance to test out SMART LTE even if it was my birthday. There was a chance to preview the speed of the the Smart LTE (4G) Internet Service at the PLDT Investors Meeting at Dusit Hotel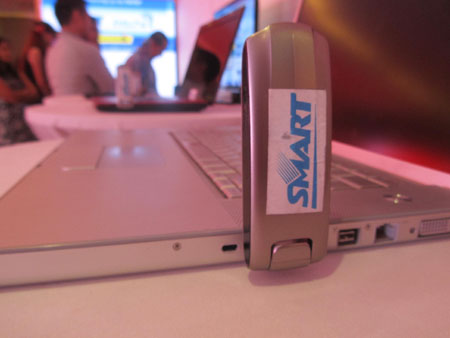 I just previewed the speed of the Globe Tornino Lamborghini 4G a few days ago.Maximum speed on the laptop was 10 mbps. You have to remember that the speed varies with the connection if direct to the cable, dongle or WIFI.
Right now most of us are using 3g or HSPA but the LTE is the next generation of connectivity. 100MBPS. One cannot use your current phones or USB dongles to access these speeds. An LTE USB dongle from HUAWEI is used here.
At the SMART LTE preview, I got to test all three. But before that, let me give a little background on Long term evolution or LTE.
Long Term Evolution
LTE is a modulation technique that is designed to deliver 100Mbps (DL) per channel and give individual users performance comparable to today's wired broadband.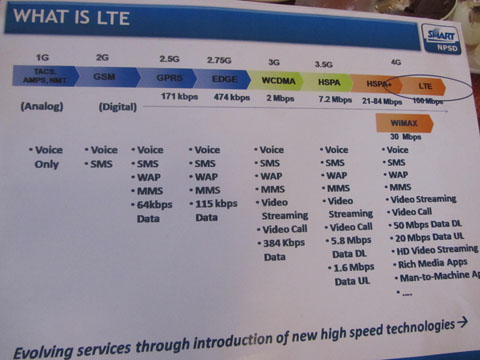 Jayvee explains the nosebleed details of LTE so just head over here but he briefly mentions that " current SMART cell towers running 3G can easily be upgraded to accommodate LTE and later on, LTE Advanced. You will need "4G" enabled phones to access the higher data network so in the meantime, while the phones are not yet here, let's be content with the dongle."
It will take some time to roll out so it is one reason the SMART LTE will be released before the end of the year.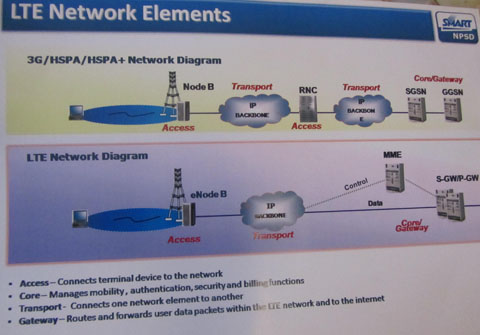 Speed of the SMART LTE
This is just a preview and that means speed can change in the future. According to SMART field trial results LTE is 4x faster than HSPA + and WIMAX. It means it will take you less than a minute to download a 3G file (equivalent to a full length high definition movie file).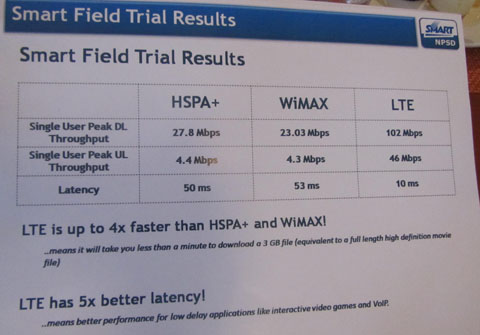 LTE has 5 times better latency which means better performance for low delay applications like interactive video games and VOIP.
I am always skeptical to optimistic speeds. In reality, servers can get congested but…if I get even 10 mbps for a direct connection, then I am happy.
So let's see the speeds at various connections.
Via direct connection (Not a dongle)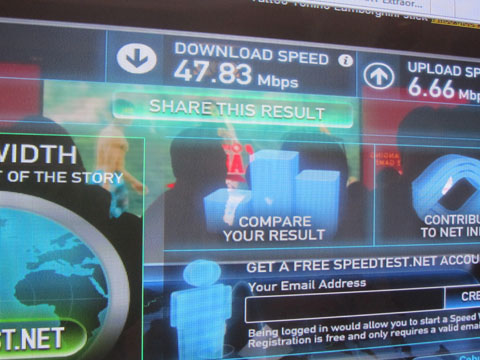 Using speedtest.net, the download speed is 47.83 mbps with upload speed of 6.66 mbos
Via dongle from HUAWEI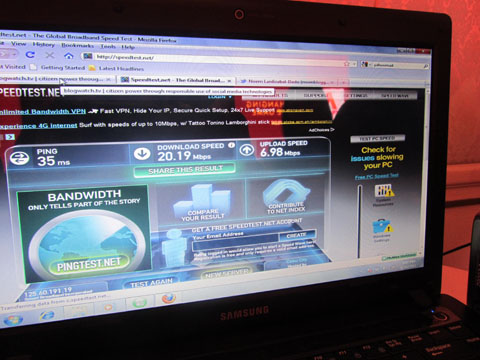 The download speed is 20.19 mbps while upload is 6.98 mbps.
Via wifi

I tested my iphone for this. Having a fast internet connection is important for me especially if I use it for livestreaming in Blog Watch interview.
Two speed tests showed 3.65 mbps and 1.4 mbps. Speeds via wifi connection is not expected to be fast. The WIFI speed can still be adjusted at the router. A speed of 3 mbps via WIFI is good enough for livestreaming.
The question is will it really be that fast? Public reaction during the launch of the Globe Tornino is that these telecoms should fix existing facilities before rolling out a supposedly fast service. SMART says, that the upgrading of existing facilities is in the work.
It is a matter of let's wait and see. To see is to believe.