Smart Telecoms shared with me their latest promo for Mother's day. So many exciting treats for moms and this is one service that you should consider. This service is called Uber for Moms. I love @Uber! Sign up with my promo code and get ?300 off your first ride! uber.com/invite/ubermomblogger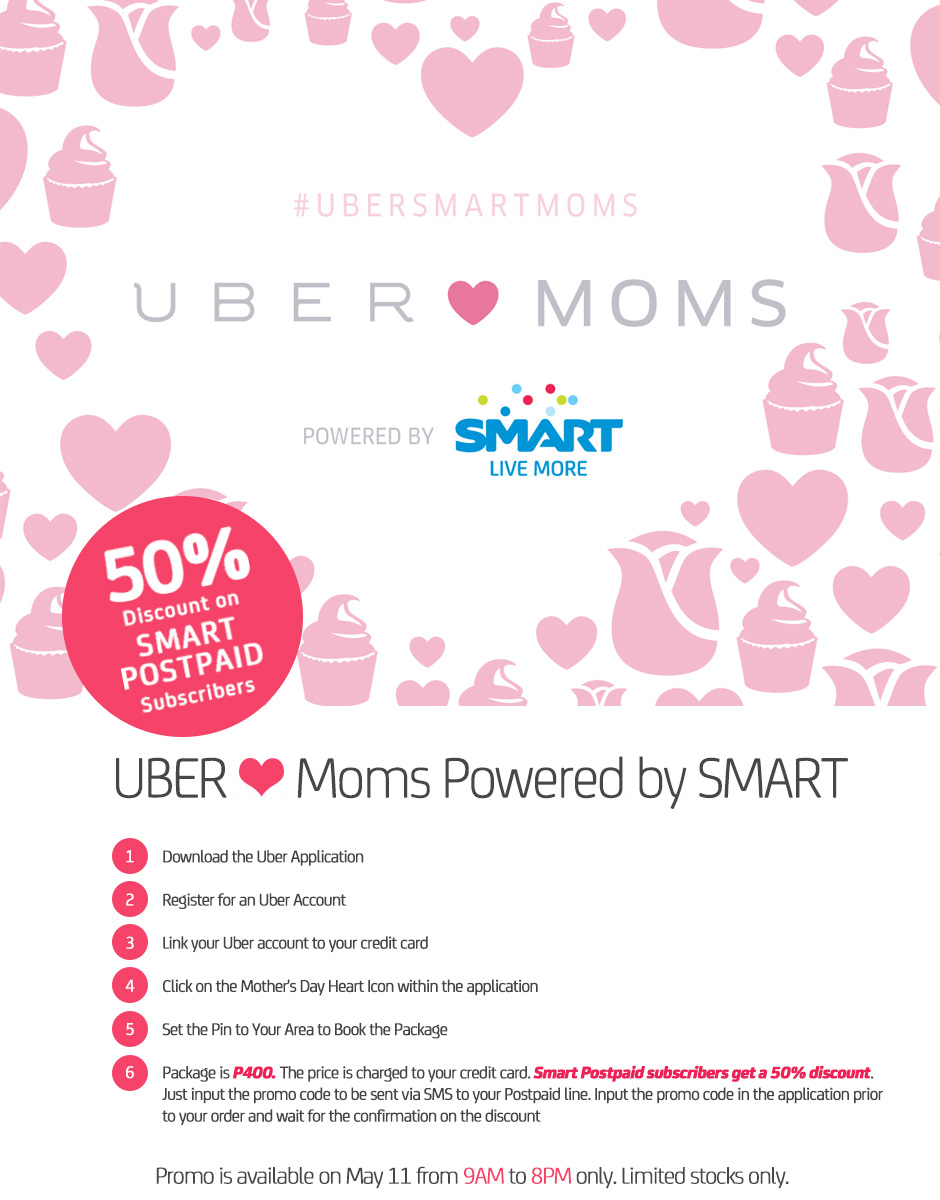 Uber received worldwide attention for its on-demand campaigns in several countries around the world. The way Uber works is using technology to provide instant gratification by partnering with large companies. Below are examples of previous on-demand campaigns:
#UberKittens – Uber partnered up with a local cat shelter in NY and if you donated $20 to the shelter, Uber would bring you a kitten you could play with for 15 minutes.
#UberSkywriting – For Valentine's Day Uber partnered up with MasterCard and when you opened up the app you could request for a message written in the sky
That's so cool huh?
In line with Uber's recent launch in the Philippines, it has partnered with Smart Communications, Inc. (Smart) for the first-ever on-demand campaign in Manila to celebrate Mother's Day.
On May 11, Uber users can request for a special Mother's Day package which will include the following:
–                A bouquet of fresh flowers

–                Gift box with beauty products from Glamour Box

–                A sweet treat from Grechelle's Kitchen

–                Gift certificate for a manicure session at Posh Nails
SMART will be offering the special Mother's Day package to its postpaid subscribers at a discounted price.
This is how it works:
Those with active SMART Postpaid subscriptions will receive a special code on Mother's Day which they can use to avail of the Uber on-demand promotion for half its usual price. This will be charged to the credit card used during the registration for an Uber account.
Users only need to download the free Uber app for smartphones and sign up for an account to enjoy the promotion. A vehicle option named "UberMOM" will be seen in the app, and users would have to move the green pin on the map to the location where they want the gift basket delivered to. SMART Postpaid subscribers only need to enter the promo code along with their orders to get the discounted price for the gift basket.
Due to existing high demand and limited availability of stock, the Mother's Day on-demand service will only be available between 9am and 8pm on May 11, and only one hundred (100) gift baskets will be available for delivery. The campaign is available for everyone that has signed up for Uber and consumers can make a request for the gift basket through the Uber application.
The Uber application can be downloaded from the Apple App Store and Google Play Store. Postpaid subscribers can avail of the 7-day and 30-day Flexibundles for P299 and P999, respectively, to get access to the Uber app and other mobile Internet applications on their phones.
I love @Uber! Sign up with my promo code and get ?300 off your first ride! uber.com/invite/ubermomblogger Read more about the uber app