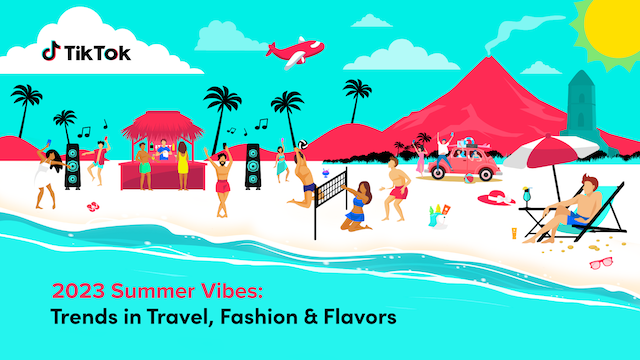 Have you heard about the latest TikTok Summer Trends report? The report shows that people are super excited about summer, and there are some big opportunities for brands and businesses to connect with their audience.
So, get this, in the Philippines, TikTok is huge when it comes to summer trends. People are looking forward to shopping more during summer sales and are already planning their summer holiday purchases. This means brands have a great chance to be creative with their marketing strategies.
Guess what? Travel is a top priority for Filipinos on TikTok. They're all about summer getaways, and a whopping 77% say they want to spend quality time with family and friends. This means we'll be seeing lots of content on the platform related to beach activities, road trips, and more. Brands can work with creative content creators to promote their travel gear and accessories.
Of course, you want to look good during summer, right? The report shows that casual wear, swimwear, and other summer clothing are on top of people's lists. Fashion brands can definitely take advantage of this trend.
Plus, TikTok users are also looking forward to seasonal food and drinks. Brands can get involved in creating content around road trips, picnics, and food reviews to build a loyal following.
What's really cool is that TikTok users feel a deeper connection with brands on the platform. It's perfect for "shoppertainment," where entertainment meets commerce. For example, a local beauty brand, BLK Cosmetics, launched a campaign on TikTok for their summer product lines, and it led to a massive increase in sales.
Brands can also use TikTok's business solutions, like TopView ads and Branded Hashtag Challenges, to create more effective marketing campaigns during summer.
Just look at BLK Cosmetics. They used TikTok to kick off a campaign for their summer product lines, and it led to a huge increase in sales. That's solid proof of how effective TikTok can be for brands wanting to make a big splash during the summer season.
And TikTok has some really cool tools for brands to use, like TopView ads that pop up right at the top of a user's For You feed, and Branded Hashtag Challenges that get users involved and creating content around a specific trend. These features can help businesses put together more effective marketing campaigns and outshine their competition during the summer season.
So, if you're a brand or business trying to make the most of those summer vibes, TikTok is definitely where it's at. If you're aiming to put your products in the spotlight, build a genuine connection with your audience, and craft incredible content that gets people chatting, TikTok is definitely the place to be. It's a lively platform where you can truly make an impact and generate buzz around your brand.