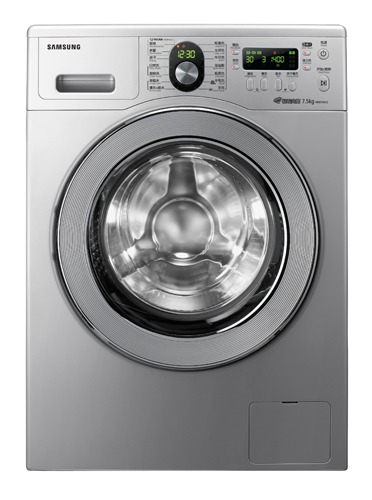 If there was a way to automate household chores, I wouldn't mind doing them more often! Samsung makes doing the laundry a lot easier with the launch of two new 7kg front load, fully automatic washing machines.
The 7.5kg frontload washer and dryer WD-8754 features a diamond drum and a Quiet Drive Motor that reduces vibration, shakes, and the overall noise washing machines normally emit. Its Air Refresh Function gets rid of unpleasant odors through a four-stage process. Basically, air is drawn into the washer, heated, and streamed over the clothes. This feature also allows you to dry-clean your formal dresses, saving you time and money on the clothes you only bring out for special occasions. As for the clothes you wear everyday, you can make sure they're clean and fresh-smelling after the laundry thanks to the Silver Wash technology – high-quality washing through the use of silver ions and cold water. As soon as your laundry is done, you can start drying your clothes with the push of a button.
The other 7.5kg washer WF-8752 has similar features – Diamond Drum, Silver Wash, and Air Refresh. What makes it different are its added functions – a Water Safety System, and special systems like the Quick 29, which cleans lightly soiled garments in just 29 minutes.
The new Samsung washing machines are available at all appliance stores. As an added bonus, you get a free bed linen set when you buy a WD-8754 or WF-8752. Promo lasts until April 30, 2010.