Several months ago, when I was debating between buying a Canon G10 and a Panasonic Lumix LX3, I ended up buying the LX3 and was very happy about it. I haven't had time to make a proper review, but I will say that it has never taken a bad photo in terms of image-quality. Even in low-light conditions where most point-and-shoot cameras fail, the LX3 has always taken awesome pictures. My satisfaction with the LX3 is the reason why I think anyone hunting for a reliable compact point-and-shoot should look into the newest addition to the Lumix family: the DMC-FP8.

The 12-megapixel Panasonic Lumix DMC-FP8 has the same features that make Lumix cameras a popular choice among discerning consumers: a 28mm wide-angle 4.6x Leica DC lens with folding optics, Power 0.I.S image stabilizer, iA, and a multi-task image processing engine. What makes it different from other Lumix cameras it boasts of an incredibly sleek design. I wouldn't trade the quirky retro design of my LX3 for anything, but I have to admit that there are times when I feel too lazy to bring it with me because of its bulkiness. The FP8, on the other hand, has an aluminum body that's only .8″ thick. I can just imagine how easy it'd be to tuck this gadget into a purse or in my jeans pocket.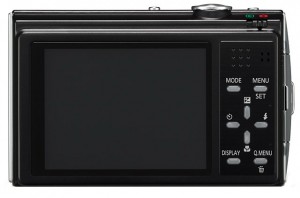 Other noteworthy features include an ultra-fast aperture function combined with a high start-up speed of .95 seconds, the fastest AF you can find in a point-and-shoot; a 2.7-inch large LCD; 40MB onboard plus an SD slot; HD video recording at 30fps with a resolution of 1280×720; 27 scene modes for when you're too lazy to configure the settings yourself; blue LED backlight on the buttons at the back of the camera; and 380 per charge with its Li-ion battery.
The Panasonic Lumix DMC-FP8 comes in black, red, and silver and is retailing for around $299 or P14,093, which is not a bad price for all these features.