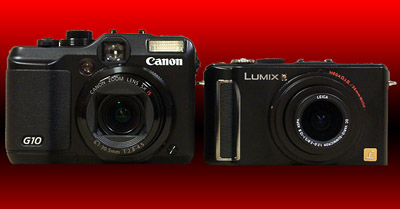 Last night, I finally made up my mind to buy a new compact digital camera, but figuring out which compact camera to get took a little more deliberation. At first, I had my heart set on the Canon G10 – I fell in love with how it handled colors when I first used one. But after asking for the advice of several friends, I decided to go for a Panasonic Lumix LX3 instead. I've yet to try using one but it looks like I'll get more out of the LX3 based on the research I did.
Feel and Ergonomics
The Canon G10 is very easy to handle – nice firm grip that feels right in my hand. As I mentioned earlier, I've yet to handle an LX3 but many reviewers complained that it's a little weird to handle. On the other hand, it's smaller, lighter, and easier to carry around, and I love that it looks like an old school film camera. The G10 is definitely not something you can just slide into a small purse without feeling like you're carrying a brick with you.
Lens Speed
A fast lens is what the LX3 has that the G10 doesn't. What this means is that you can get great photos in low light conditions, which is exactly what I'm looking for in a new camera. I hate having to use a blinding flash when I do night time photos in indoor shots. When you use the G10 in low light conditions, you have to bump up the ISO in order to get the same exposure the LX3 has at a lower ISO. Which ties in to another complaint most reviewers have – the G10 churns out grainy photos at high ISOs.
Color
I've always been a Canon fan because of its bright vivid colors, especially in natural lighting. It turns out that the G10 and the LX3 is at par in terms of color. Although some reviewers had complaints about color accuracy, it turns out you can always tweak the colors to suit your tastes. I suppose I can figure this out with the help of the manual.
Accessories
Apparently, there are tons of accessories you can buy for the LX3, including a wide-angle lens and fish-eye lens! The G10 has lenses as well, but they're not as accessible as the LX3's.
Price
Both cameras are in the P24,000 – P26,000 range, which makes sense.
Now, to make a couple of calls to camera stores! If I can find a store that can give me a Panasonic Lumix LX3 at installment with 0% interest, I'm definitely grabbing one.