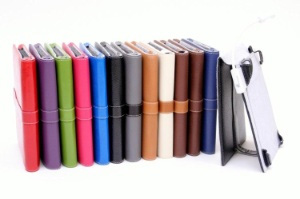 At the launch of the Amazon Kindle 2 at New York City, Amazon revealed that the successor of the popular eBook reader will not be coming with a free, Amazon-supplied protective jacket. I don't know about you, but I like putting my electronics in protective covering – I hate seeing scratches on the body! So if you're looking for something that'll protect your new Kindle 2, check out M-Edge's new line of protective jackets for the Amazon Kindle 2.
The Executive Jacket comes in both genuine and synthetic leather and offers full protection for the device. The Kindle 2 will be held in place with a Kindle-compatible mounting system and has a wraparound closure strap. The jacket's design can also accommodate M-Edge's booklight, the e-Luminator. Executive Jackets are available in marble read, jade green, fuchia, sapphire blue, and purple, and also come in more muted shades like saddle, navy blue, gray, cream, mocha, and black.
The Platform Jacket has protective functions as well, but it comes in a new bookstand design that allows you to read your Kindle upright and hands-free. Like the Executive jacket, it comes in synthetic and genuine leather.
Both jackets cost between $29.99 to $44.99 and are now available for pre-order.