A week ago, I received a Kindle as a gift for being a resource speaker. Since I had an iPad already, I felt the Kindle deserved to be given to a book worm. It was a toss-up between my husband or my daughter. I vaguely recalled my daughter mentioning that she would consider a Kindle. When I asked her if she wanted the Kindle, she quickly nodded. Since then she has been raving about the Kindle that she even wrote about it.
Here is her review of the Kindle 4.
Like many an old-fashioned bibliophile, I resisted the dawn of the e-book age when it was ushered in by Amazon's ubiquitous Kindle e-book reader. I clung stubbornly to my bookshelf and vowed that I would never trade the pleasure of reading a paperback novel for the compact convenience of its digital counterpart. Well that pretty much changed when my mom surprised me with my own Kindle 4 last week. She didn't buy it for me or anything. Like the two incarnations of the iPhone that I've owned, this was a gadget that didn't quite suit her needs, and figured that I would get more out of it than she ever would.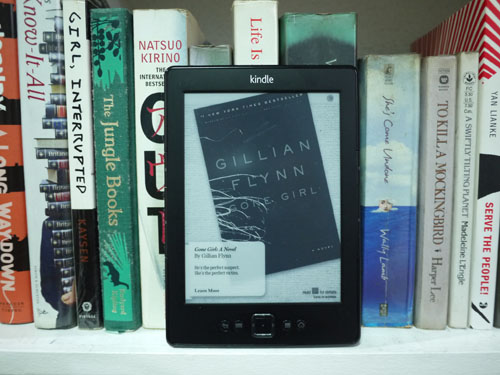 I didn't expect myself to welcome my first e-book reader with delight and excitement, but squeal happily I did when the Kindle's black box was handed to me. I figured, I won't have the luxury of shelf space when I move into my tiny shoebox, so might as well get with the times and go digital with my books rather than give up reading things that aren't Longreads or Cracked articles. From what I've heard from Anne, the only one of my friends to have ever used a Kindle, it's actually a pretty cool device – a sleek and light thing that tries to replicate the physical book reading experience as much as it can. I eagerly unboxed my Kindle and plugged it into the nearest USB slot to charge. Within ten minutes, I was already downloading my first e-book.
Continue reading at her blog