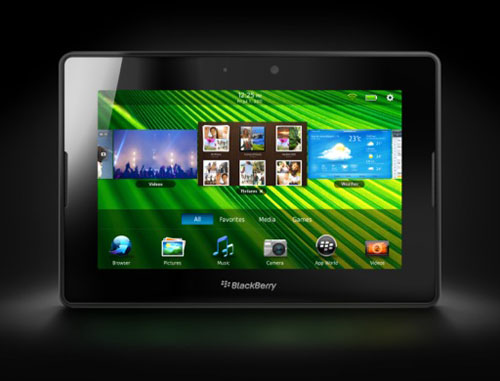 We finally have an official release date for the BlackBerry PlayBook Tablet! According to Research In Motion (RIM), it will be available in the Philippines on August 6, 2011 from all authorized RIM retailers. It will come in three WiFi models with 16GB, 32GB, or 64GB of memory storage priced at P23,990, P28,990, and P33,990 respectively.
To refresh your memory, the BlackBerry PlayBook is a compact tablet that provides a robust web browsing experience with support for Adobe Flash, multitasking features, HD multimedia, and advanced security features. Specs for the tablet includes:
* 7″ 1024×600 WSVGA capacitive LCD touch screen
* Ultra-portable at less than a pound and less than one-half inch thick: 0.9 lbs (425g) and 5.1" x 7.6" x 0.4" (130mm x 194mm x 10mm)
* 1 GHz dual-core processor
* BlackBerry® Tablet OS with support for symmetric multiprocessing
* MP3, AAC and WMA audio playback
* Support for high resolution video playback (H.264, MPEG4, WMV) 1080p HDMI output
* Dual 1080p HD cameras for video conferencing and video capture (3MP front and 5MP
rear)
* 1 GB RAM memory
* Up to 64 GB internal storage (16, 32 and 64 GB models)
* GPS, Orientation Sensor (Accelerometer), 6-Axis Motion Sensor (Gyroscope), Digital Compass (Magnetometer)
* Stereo speakers and stereo microphones
* Wi-Fi (802.11 a/b/g/n) connectivity
* Bluetooth® 2.1+EDR support
Learn more about this cutting-edge device by visiting http://ph.blackberry.com/playbook.