Smart is broadening its music portfolio with the introduction of premium bundles for global music-streaming service Deezer which is great news to the music listening market in the Philippines.
The announcement of the Deezer bundles complements Smart's homegrown music service SPINNR, which offers song downloads for as low as Php10 and music streaming for just Php2.50 per day, roughly equivalent to the value of three text messages.
"Deezer completes Smart's music portfolio as we strive to provide the complete music experience to all kinds of users," said Charles A. Lim, EVP and Head of the Wireless Consumer Division at Smart.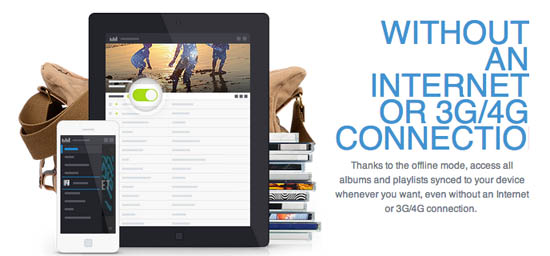 "SPINNR provides the total music experience to our subscribers with streaming and downloads of all the latest and hottest songs, the most anticipated concert events, meet-and-greets with their favorite artists and exclusive access to official merchandise. Deezer, on the other hand, provides music streaming with a large catalog of 30 million songs and the widest availability in more than 100 countries around the world," Lim added.
As you can see , this chart shows the advantage of Deezer over Others. I have Spotify and I love it but reading Deezer's advantages makes me want to download Deezer on my Smart Postpaid phone.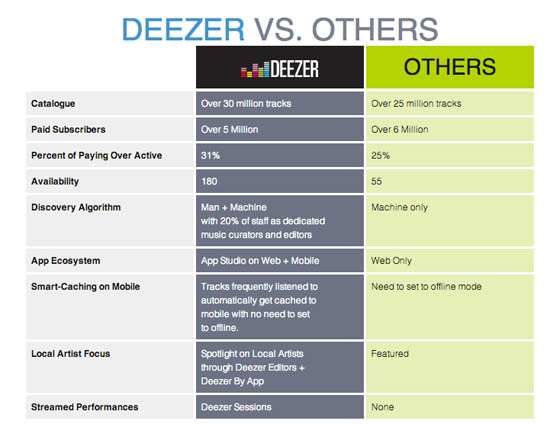 Premium offers
Deezer offers, with over 30 million songs and powerful music discovery solutions, will initially be available to Smart Postpaid subscribers through Unlisurf Premium Plans starting at just P1,175 a month, bundled with the year's latest smartphones and unlimited LTE surfing.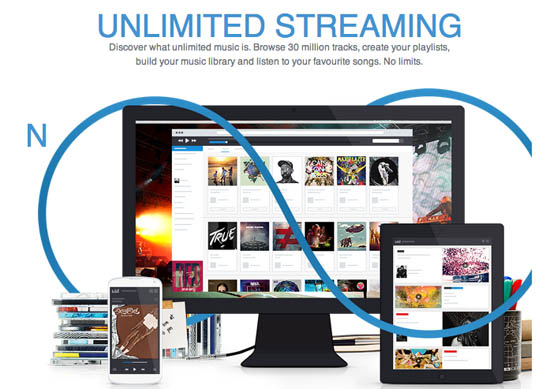 With its new Unlisurf Premium Plans, It is now bundled with the latest smartphones with a free Deezer Premium+ subscription for two years, unlimited surfing with access to LTE, plus free calls and texts to all networks. Users can choose from a range of high-end smartphones that include the Sony Xperia M (Plan 1174), the Nokia Lumia 1020 (Plan 1675), the Sony Xperia Z2 and the Samsung Galaxy S5 (both at Plan 2175).
Users, for example, can get the Sony Xperia M2 at Unlisurf Premium Plan 1175, with unlimited mobile surfing, free calls and texts, and a Deezer Premium+ subscription already included in the package.
As an exclusive perk to early subscribers, Smart will be giving those who sign up for any of the Unlisurf Premium Plans a P175 bill rebate for six months.
Music packs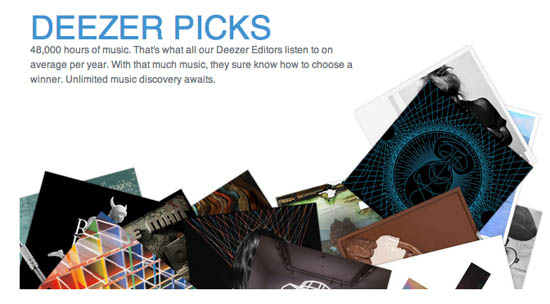 Existing Postpaid subscribers, meanwhile, can take advantage of the various Deezer Music Packs that come with a free Deezer Premium+ subscription. These include Deezer Daily for Php25 (1-day Deezer access plus 25 SMS and 10MB of mobile data for Deezer streaming), Deezer Weekly for Php125 (7-day Deezer access plus 125 SMS, and 50MB of mobile data for Deezer streaming), and Deezer Monthly for P250 (30-day Deezer access plus 250 SMS, and 100MB of mobile data for Deezer streaming).
The same music packs will also be made available to prepaid subscribers very soon. For more information on Smart's Deezer offers, visit smart.com.ph/Deezer.
Watch out for more updates as I attend the launch tonight.