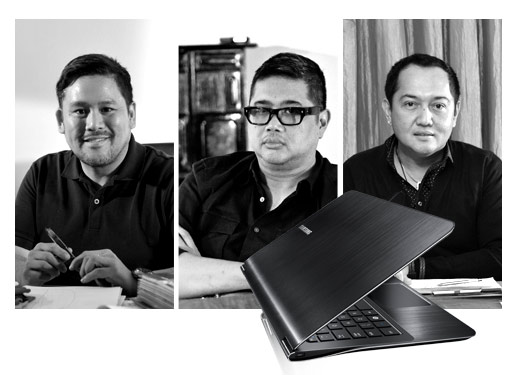 Fashion designers find inspiration from all kinds of objects, from a flower in bloom to innovative architecture. Top Filipino designers Rajo Laurel, Randy Ortiz, and Rhett Eala find their new inspiration from the new Samsung Series 9 Notebook. This sleek device breaks all sorts of records – it's thinnest netbook at only 16.3mm (0.64 inches) in depth , the lightest netbook with a weight of 1.31 kg, and its 13″ screen is the brightest, thanks to Samsung's LED SuperBright Plus display. What makes this device so light is the duralumin metal alloy body, a metal so light it's only used in specialized aircrafts. Aside from looking stylish, the material also makes the netbook durable and sturdy.
The slim silhouette of the Samsung Series 9 Notebook inspires Randy Ortiz, who intends to create the thinnest collection made of flowing fabric. As for Rhett Eala, his collection aims to make the wearer feel beautiful and sexy. Just as using a Samsung Series 9 notebook is a fantastic experience in itself, so do his creations make lucky girls feel sophisticated and glamorous. As for Rajo Laurel, he was inspired by the vivid colors on the monitor, and would like to create a vibrant, energetic collection that's as brilliant as the LED display.
The Samsung series 9 will be formally unveiled on March 22 at the Grand Ballroom of the Manila Peninsula, together with the collections of the three designers.